December already? WTF, folks!
With the holiday season right around the corner, and with it the sad realization that our 2020 New Year's Resolution fitness goals are officially shot to shit, one would think that having an HQ in a shopping mall would greatly benefit the SHC news team in its search for some cathartic retail therapy. Unfortunately, we spent the entire day walking around and didn't pick up anything apart from some serious schizoprhenic Liam Vibes: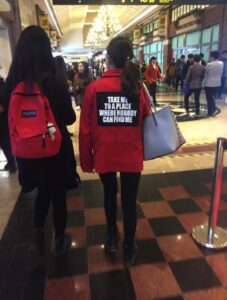 (Pictured Above: Sneak Preview Footage from the SHC's very own Episode of "Making a Murderer: Stalkin' Austin, the Minhang Menace")
Luckily for us there was a constant flow of reports to keep us distracted with all the extraordinary extracurricular action happening around town. The most intriguing of which involved our newest King and SHC member of the year, Yuzo Yamada: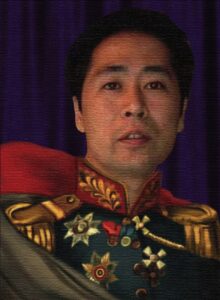 If you didn't already hear about it, this absolüt beaüt found a way to gift the SHC 50 Cases of Pilsner Urquell, a premium Czech beer. Behold: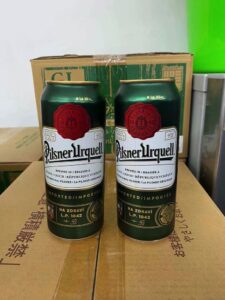 (Editor's Note: Just don't look too closely at the expiration date, buoys n' gulls, and we'll be drinking from now till January 17th like a Euro-trash Kings! Kings I tells ya!!!)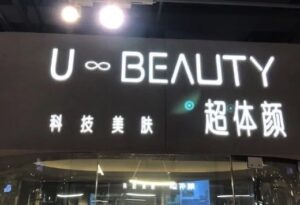 (This 3rd-tier shopping mall store's for you, Yuzo)

But enough about all that. Let's see what the cat dragged in.
---
Saturday November 28th
Ice 4 vs. Fog Devils 2

An oustanding performance from the Shanghai Ice's youngling, Skywalker Hou resulted in a hattie that left the Foggy D's wondering what happened to their force on Saturday night. It's worth mentioning that Skywalker's linemates, "Jedi" Jim Burgess (1 g and 2A) and "Viceroy" Victor Mui (2A) did their part, pitching some cosmic apples into the beskar bushel en route to the convincing victory.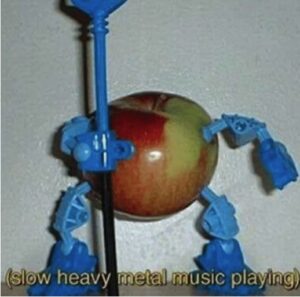 (Pictured Above: A Cosmic Apple, clearly)
---
Giants 3 vs. Capitalists 2 (OT)
For the second weekend in a row The Capitalists and The Giants took to the ice for a romantic weekend dalliance. After last week's heated embrace in the dying seconds of the game between Ivan "The Tinder Terror" and Matt "Hell hath no fury like that of a Whately scorned", nobody really knew what to expect in this week's serialized soap opera.
Not to worry if you missed it. As a special treat to our fans, we had our IT department edit together the lover's quarrel for your viewing pleasure (editor's note: if high velocity impacts make you squeamish…. or horribly inconsistent volume levels…. viewer beware):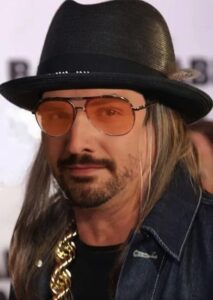 "MAh. NAME. IhS. SKIIIIIIIIIIIIIIIIIIIIIIIIIIIIIIID. SKID ROCK!"
Opening the scoring for the Caps with a muffin of catastrophic proportions was Paul "Dicks out" Karam-be. After somehow losing the draw, he still found a way to squeeze it past Syer's inflated pads. Surprised but not deflated, the Giants woke up when Ivan "But I deleted Tinder after 'the incident'" Tchekaskin rushed up the ice from his own zone and dished the sauce tape to tape to Sander "I'm only here for the beer" Vermeulen for the equaliser and his first of the season.
The game was slow as shit usual for the SHC until Ivan and goaltender, Eric "I can skate better than you, just let me break it out" Rupert came up with the genius idea of gift-wrapping a wrap-around for the Caps' Seb Flaaschma just in time for the holidays. 2-1 for the money makers.
Eventually, Hiro "お つ か れ" Otake got tired of sharing the ice with his Euro-trash captain and sent Sander "get-the-fuck-off-the-ice" Vermeulen wide down the left wing. The resulting clap-bomb surprised everybody, including Brett "Welcome to the Gap…between my fucking pads" Syer to equalise once again.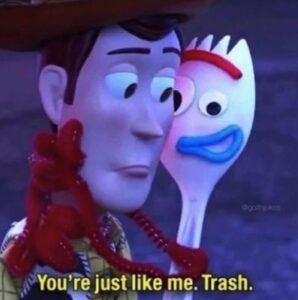 (Pictured Above: Sander speaking to Brett after tying the game)
The final minutes were ticking away and everybody was preparing for OT until Fumiaki "knock-kneed n' greasy" Nakanishi took a penalty with 1:20 remaining in regulation.
The Caps clearly ignored this golden opportunity, allowing a missed short-handed breakaway by Susumu "I crack brews for breakfast" Nakata, and were lucky to stretch it into overtime. To quote Jan "Yeah but you should see me play Floorball" Jelinek, "This was the shittiest OT I have ever seen: 2 penalties, 32 seconds of play and the ugliest OT goal of all time by Ivan, but we won so I can't complain!"
---
Sunday November 29th
Fog Devils (L) vs. Manhunters (W) (forfeit)
It has been said that there are only 2 things we know with absolute certainty:
1) That a broken watch is right twice a day
2) That The Manhunters were overdue
4) That Math isn't our strong suit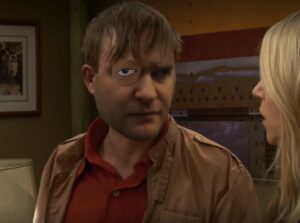 "Any fool can see this is true. ANY FOOL" -Sheldon Hunt
The forfeit loss capped off a bummer weekend for the Fog Devils, who were trying to rebound from their first loss of the year in week 5 and a thumping on Saturday.
In related news, Manhunters' Team Captain, Sheldon "I believe in Miracles" Hunt shared an image he believed was "a sign" that proved he was in for a week of, "delicious Christmas-season auspiciousness":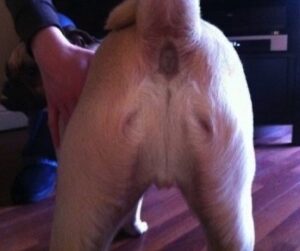 (Weird word choice, we know)
---
Shamrocks 8 – Eagles 2
The final game of the weekend got underway after a bunch of toolbags finished running some Pee-Wee level breakout drills for an hour because another BIGGER bunch of toolbags forfeited the early game. And honestly folks, we saw a better display of team chemistry in the group of dancing Aiyis outside the rink.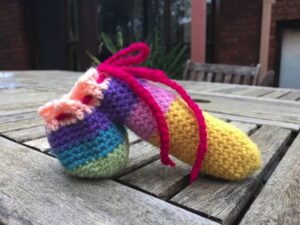 (Editor's Note: They also knit us some pretty sweet homemade face masks for the winter – sweethearts, every one of them)
The only saving grace for the crowd was the chance to see Hritzik's magnificent salad flowing out of the back of his bucket. But the roars of fury when the spectators saw he'd cut it clean off almost caused a riot. At that point the surly crowd was ready to go home and watch The Queen's Gambit with their wives and pretend to be interested in the refreshingly original cinematography and breathtaking quality of production… But alas, the Shammies hit the ice looking to make it 6 in a row.
The Eagles opened the scoring when Nick "The Gorilla Korilla-son" went bar-down on a pretty little number from just inside the blue line. Taka-san also scored for the Shit Birds on a garbage-time goal that no one gave a shit about, really.
Sandwiched between these two irrelevant goals were eight Shamrock tallies. Speaking of being sandwiched…: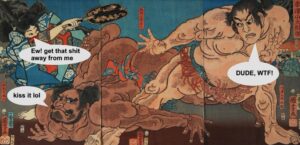 TK "The Taint Kisser" Takahara notched two goals in tight for the Shamrocks. Brian (or Bryan?? With an I? a Y? Ugh, this guy) Sternburger also had two for the Shammies after going with the half-visor for the first time this year. Dude can finally see the friggin' net!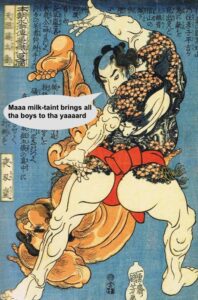 A few other knobs also scored for the Clovers, including Karl I ain't no Kullerback girl (see picture above) on one of the prettiest one-timers of the year. And of course Walshy blah blah and Chris Im yadda yadda whatever whatever….the two biggest taint kissers of all: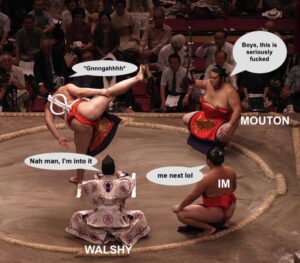 The Eagles were stifled most of the game by the Great Green Wall of Defense, anchored by I wanna rock! (Rock!) Sun and I can see for miles and miles and miles and miles and Miles Liu.
---
Well that's all she wrote for Week 6, folks! But if you're still perturbed that Liam still hasn't been brought in by the police, come down to the Veiny Tiger and buy your loved ones a winter coat with a clear message the dark voices in his head can't possibly misinterpret: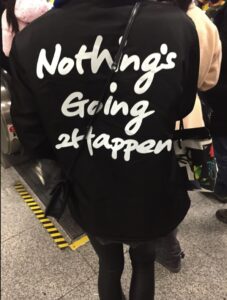 Hahha, oh Liam. Your path out of the Friendzone is a very dark one indeed, old friend.