Cheese and crackers, folks!
With the ungodly amount of 11/11 online shopping clogging up our bandwidth this week, it's a miracle we managed to post anything at all! You see, the SHC's very own "Newly Cushion" hit the digital marketplace just in time for the annual online shopping frenzy. And I'm here to tell you, buds – these bad boys sold like hotcakes: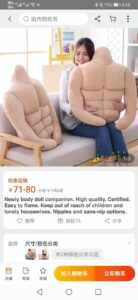 (Editor's Note: When you join the SHC we own the trademark to your likeness and nicknames till the end of time. It's in the T&C's when you sign up for shinny. Don't believe me? Go look it up – we own you!)
After delivering all 230,000 newly units across the greater Jiangsu province, it was back to the phones for the SHC team, as reports rolled in to give us the skinny on week 4 action. And we'll get to that in good time, but first let's take this opportunity to plug another one of our hottest selling Newly line of products. We call it, "The Family Newells" apron: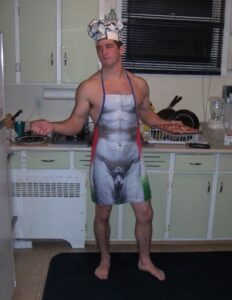 Pictured Above: Anatomical Correctness
Without any further ado, let's pop the lid off this can of shriveled little worms, shall we?
---
Saturday November 14th
---
Fog Devils 5 vs. Manhunters 4 (OT)
Saturday night opened up with a fierce battle as the undefeated Fog Devils quickly fell behind due to a sneaky play that saw Jeff "The Nightman" Hritzuk karate chop a high-and-wide point shot out of midair right down to his stick. He then buried the biscuit with a blur of cat-quick reflexes so quick you'd have sworn he was a black belt.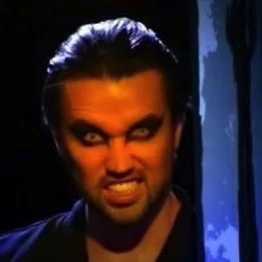 "HSssssssssssss" – Jeff Hritzuk

Lo and behold, the game's antagonist scored another one by slithering up centre ice like a nimble burglar in the middle of the night, sliding his second right through a helpless Barry Roe's no-no zone.
Not one to be disheartened, Newly fired back up center ice like a bitch in heat and ripped a wrister on the short side, making it 2 – 1 Manhunters at the end of the first period.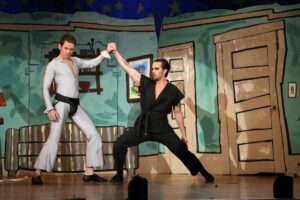 Pictured Above: A dramatic reenactment of Newly's (L) heroics
The SHC's resident camera woman and 2020's award winner for "most tickled profile picture in the SHC group chats," Amy Bruce, inched closer to the edge of her seat for some second-half action. Unfortunately, it was just in time to see her husband, Loosey Brucey, get lit up as the ever-venomous Hritizuk struck out at an errant pass like a snake and turned into the FD's zone to complete a natural hattrick.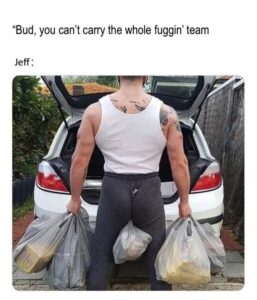 Pictured Above: Gluteus Correctness
(Editor's Note: this post's late and I've decided to let the rest of this summary play out as originally intended – enjoy!)
Nimble Newly quickly returns with a headfirst into the net goal (no one is sure what part of his iron man body put it in). Witch now puts the Devils back into the battle. The Devils team Caption "Soft Hands Hans" gallops all the way down the ice with elegance around all defenders and sticks one in the upper deck making it a tie game. (What a beauty).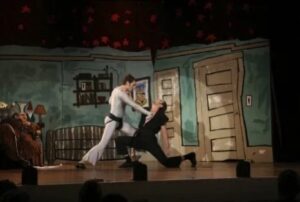 Pictured Above: Newly evening the score
"That Darn Guy" on the Hunters once again shows his talent with a, nobody knows where the puck is but him scramble in front of the net goal. Again "who is this guy" That's 4 G's. Once again, the Hunters are up 4-3. Not to be out done Nimble Newly with a beautiful pass from Yodelin' Yofa five holes a goal making it 4-4 and entering O.T.
You can cut the tension with a knife as the final battle of the Titians begins. The unstoppable forward line up of Yosef, Newly and Hans pass the puck around like all-stars and win the game 5-4 Fog Devils. Maintaining an undefeated record. – Adrian Bruce Jr., age 9
---
Shamrocks 4 vs. Capitalists 1
The Capitalists weren't the only ones smelling what the 'ROCKS were cooking Saturday night as onlookers were dazzled by amazing feats of puck possession and refereeing provided by the Chinese Institute for the Blind.
In a surprise feat, Ben "Will it in" Williston managed to register his first SOG (and tally) of the year. Fantasy leaguers are expecting big production now that Ben has begun to experience the hormonal advantages of puberty. Though it's been widely reported that he's in a weird phase as a result: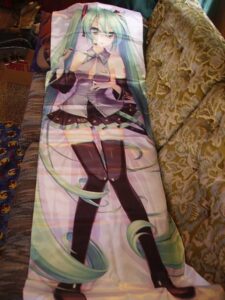 Pictured Above: Williston's Version of the Newly Pillow

Coming up clutch with the GWG was none other than the wandering ronin, Tetsu Kitahara. This masterless Shammaurai banged home his second of the year, giving the boys in green a crucial 2-goal lead.
Game-time decision, Michael "there's worse diseases to have than COVID" Walsh may have been under the weather, but the only thing he was transmitting out there was some disgusting sauce. At one point he hocked a beauty across 2 international airspaces to… his own D partner?!? Now, it's not often that you can say that a D-to-D pass ends up in a breakaway goal, but we can only guess that Rock "The Dwayne" Sun was on the receiving end of some delicious lung butter while he was doing his best to socially distance himself from Walshy.
We were going to mention how Brian "Fur-burger" Sternberger tallied his first of the year, but we are expecting more opportunities to acknowledge him later as he has reminded us in many a drunken stupor that "I'm putting up 15 this year boys". Only 14 more to go Sterny. Jiayou, ya duster.
---
Sunday November 15th
---
Manhunters 5 vs. Giants 6
Ho jesus, folks. It didn't take very long for the Manhunters' secret weapon, Jazzy Jeff Hritzuk to unleash the grease on the Giants' D-core (scoring his second natural hattie of the weekend, I might add). The Giants found themselves in a hole before rising star Giants defender, "Tiger King" Gao decided to singlehandedly even the score by hunting down a couple of "Carole Baskins" for his mantle. (editor's note: …That Bitch)
With the score pretty much even at half, the Giants' secondary scoring unit were forced to sit back and listen to a terrifying tirade from 5'4″ Yoko Ono Mitani to get their asses in gear: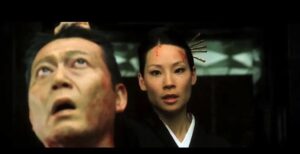 "…now… if any of you son's of bitches got anything else to say, nnNNOWs's the fuckin' tiiiime!" – Yoko Hitani
Sparked by fears of imminent castration, Shane "Anatomically Correct" Anderson fed Yoko for a beauty in the slot that helped put the Giants up for a spell. Another PP tally late in the game from the Sandertchekaskerson line helped keep the Giants ahead for good, despite a limp-dicked comback attempt.
---
Eagles 2 vs. Ice 6
In the final game action of the weekend, the Shanghai Ice matched up against the Sr. Eagles.
"Was it a close game….who knows,
Was it a fun game….seemed so;
Can any of you pylons nodding your heads on the subway pretending you understand this actually read?
Of course not."
-Alexis Gale
As for the actual game, the Ice converted a ridiculous number of chances into 6 goals and the victory. They were led by a 4-point night from Victor "ask me about my watch" Mui, who scored his first hat-trick of the season and added a helper on a goal by the man who is without a doubt the most attractive Swede in the history of the SHC, Martin "Ladies Love RC Racing, Just Ask My Wife" Skäriin.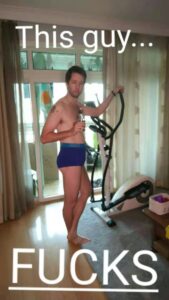 Pictured Above: Waistband Correctness
Sky "High" Hou and Alex "Why the fuck don't your gloves match?" Galeeach had 3-point nights with a goal and 2 assists to their names.
It is with great pleasure that we take this moment to mention that David "Why is Victor still yelling at me?" Lin picked up his first point of the season on a beauty of an apple behind the net.
The Eagles managed 2 goals to keep it respectable, both on local brewer, Casey "Lanehouse" Westergaard, whose beer bottles better have fewer holes in them than HE did in that crease, or else the man's business is going belly up. Andrea "Pipe and a Crepe-az" and Patrick "My personality makes up for my lack of a wrist shot" Yardley were the lonely goal scorers.
---
Well that's all she wrote for Week 4, folks! Stay tuned for some top-tier game action this weekend. Also, let us know if you're interested in a Sanya hockey tournament taking place on December 28-31. Beach, Beers, and New Year's. Click yes or no, please and thx!