Week 8: The Week of Delicious Auspiciousness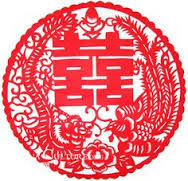 What is this thing, anyway? It looks like the lower back of every girl I met in college
Hot dang, folks! Week 8 was chock-full of lucky omens and kitschy goodness for the lucky puck-heads down at ol' Frozen Feiyang Ice Skating Rink. With the ongoing war between the KHL and the SHC boys at a ceasefire for the foreseeable future, things were looking like they were all getting back to normal: the racks were back, the cases of beer were properly stacked, and Matt Whately – seemingly for any and every reason – was under attack. Ah yes, folks – normal. Even the regular mid-week shinny slots were back on schedule (much to the delight of our slightly out-of-shape, beer-league mouth-breathers).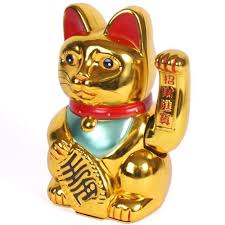 Noooo, no you go! *waves* Stay out there. I need another 30 seconds.
---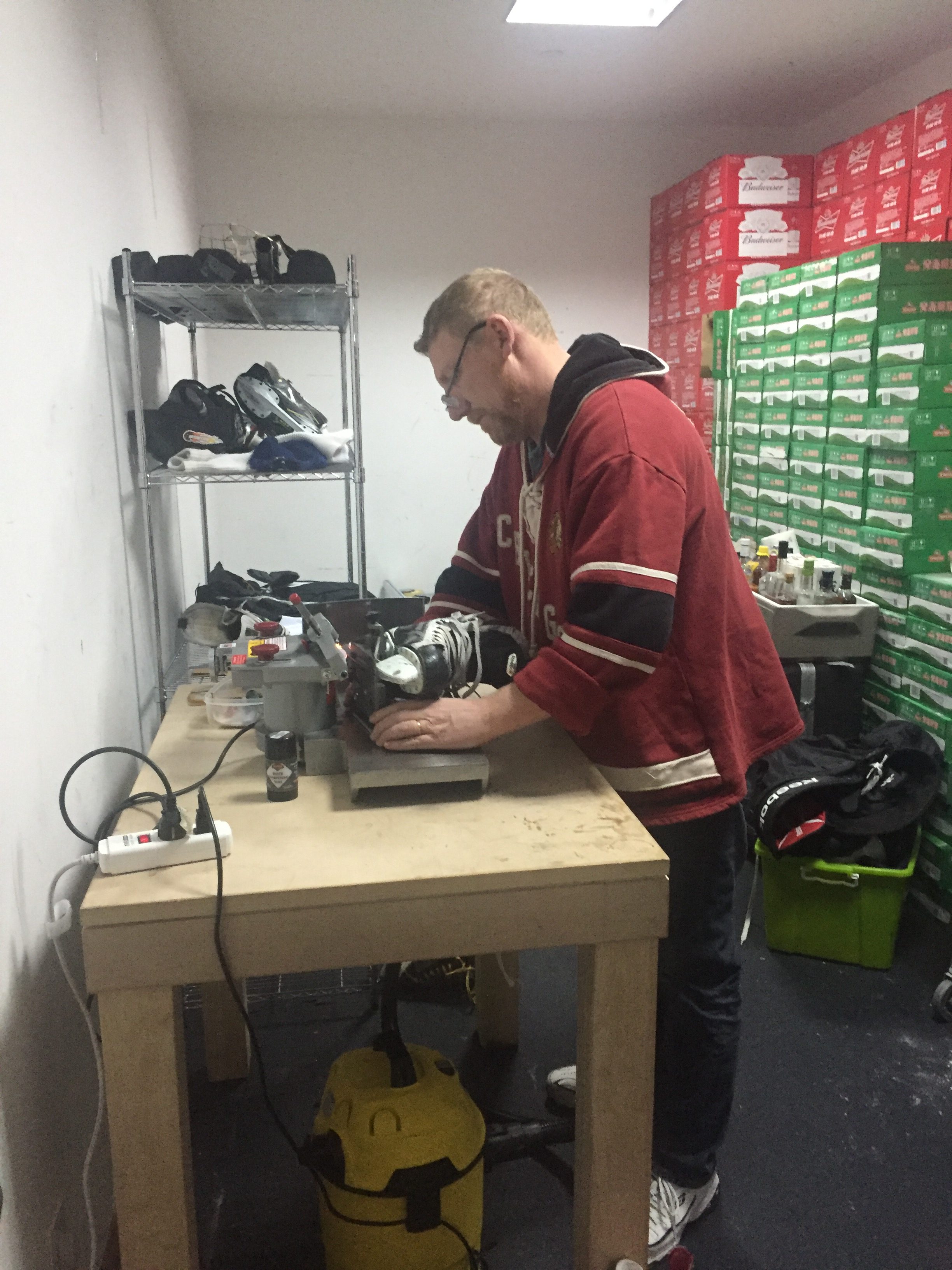 Pictured above: The Ginger who Stole Christmas, buzzin' some blades in the recently reclaimed exec room
---
But wouldn't you know it, folks. Just when we thought this whole kerfuffle with the KHL was all over, it seems they had one last parting shot for us before they left town for good: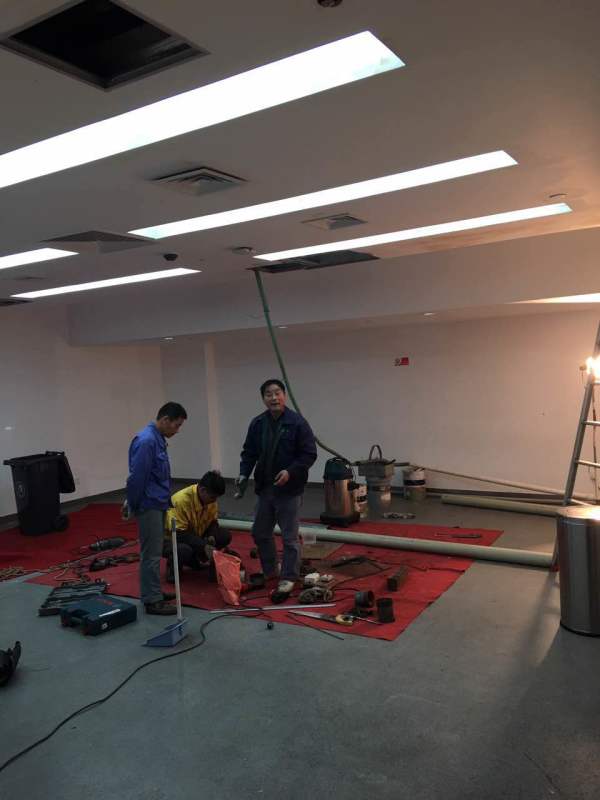 Rink Worker #1: "Eh buddy, she's gushin' right good. Looks like some fella pooched the grinder by pourin' a whole bunch of Borscht into the hot water mains."
Rink Worker #2: "Oh F@$k Yah Bud, you'll be takin' cold showers for a few weeks yet. It'll be good for ya though – look at me! I've never taken a hot shower in wintertoime my whole life, and I'm good to go, ya duster."
Rink Worker #3: *looking up from toolkit* Yeah buddy, everybody knows hot showers in winter make ya sick, ya friggen' beaut!"
SHC: "Where the hell did you guys learn to speak English?
Workers (All Together): "Frig off, ya friggen' rook."
There is a silver lining here, however. The maintenance staff have assured us that the hot water will be back within 2-3 weeks. So, factoring in the conversion rate between Chinese time estimates and Western interpretation of said estimates (i.e. reality), none of the SHC members should be coming down with a cold until at least the end of the season!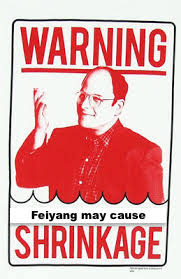 But enough said about that – here's your friggen' roundup:
---
Friday Night
Friday night was a gosh darn barn burner, folks! Action in the A league hit a crescendo as four teams were jockeying for position at the midway point of the season. By the end of the night, 25 goals were on the scoresheets and 2500 fantastically fictitious fans were on the brink of an all out riot with all the excitement that was in the air.
Hamburglars 8 vs. Fog Devils 7
For this highly anticipated matchup, legions of phony followers poured into the simulated cheap seats to get a taste of some juicy mid-season goodness. And folks, they got their Monopoly money's worth. This shot-for-shot turkey shoot had both teams reeling as each side's top snipers racked up the body count of bar-down dingers all game long. For the Devlish Delights, Albert Hakunna-mattata-tov picked up a pair, with Ryan 'Big Bird' Baerg and Danny boy Guo following suit. The lone gunman for the Dev's was Kita – the man who I am unashamedly afraid to nickname, even though he doesn't speak a lick of English. On the 'burgs' side of the fence it was Adam 'red light' Liu who shouldered the load, picking up a hattie and four assists for 7 points on the night. His brother from the exact same mother, HAair-on Liu potted a pair and two helpers for 4 points of his own. Not to be dismissed, Ballsaack McTrickledick tagged up for 4 apples and a gino for a 5-point performance. Kompton Collings and Shailene Wooderson each added a snipe somewhere inbetween to help hold off a revamped and revitalized Cloggy Douchebag squad. It was the least Anderson could do, really, considering he took his mechanized pizza tossing to the next level.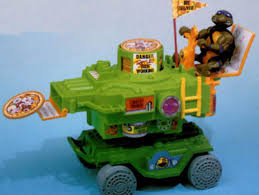 Anderson: "Cowabunga duuuuuuudes!"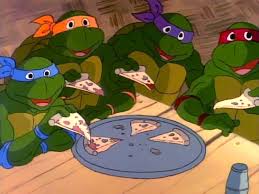 Pictured above: Fog Devils Forwards
When asked how it all went wrong, Doggy Kennel's captain, Hans Solo, was visibly unnerved and declined to answer, just to WeChat us 5 minutes later with this coincidentally appropriate internet meme: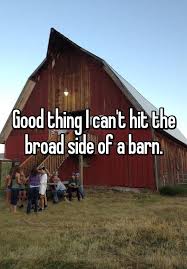 The von Meister Family Motto
Beardogs 6 vs. Fever 4
The second game of the evening provided the illusory crowd with a similar level of gameplay and even some eyebrow-raising behaviour for what was originally billed as a laid-back beer league match. Maybe the players in this one thought the illusory fans were actual people who actually cared about the outcome of regular season SHC play? Who knows, folks, who knows. All we know for certain is that by the end of it players on both sides were in desperate need of a cold shower.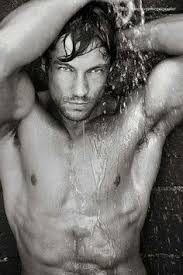 Pictured above: J.P. Grimard after the game
(Editor's Note: J.P.'s been taking cold showers since 1995 – it's his secret to looking younger)
All in all there were 13 penalties between both teams, which is only cool if you consider the SHC fantasy-leaguer's stats that were bolstered by the brutal affair. When the players actually did have their sticks on the ice, however, some beauty plays were made. 'Top-cheesy' Ruiz-y was solid gold out there, picking up a hattie and dishing out two helpers for 5 points for the Baredicks. Ryan 'I Always Play Fair-isson' sniped a couple for himself doing what he does best – creepin' (in off the point). Michellin-man-cock Mischell McClocklin' even found a way to lumber his giant package into the slot for a dandy dinger of his own. As for the Fetish-lovin' Fever squad, Huge-Taloned Thalen ripped home a couple ginos, while Triple Lutz Custard banged one home. Maximillian WendoIgettoplayagin? Was good for a goal of his own before getting fed up and going home early.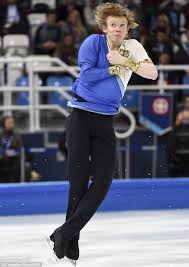 Pictured above: an irate Custard Pie, 'spinning out' after one of his teammates gets ejected from the game
---
Saturday Night
Hamburglars 8 vs. Beardogs 6
Well, if the Hamburglars didn't get an early Christmas gift Saturday night, then we ain't named the Shanghai Folly Chub! By the halfway point of this game, the 'burger boyz were up 6-1 and looking to take it easy in the second half. But, and this is a big but (huh huh), that's when the Beardags' very own Swisher Sweethands, Patrik 'No Autographs Please' Ruiz decided to keep the puck to himself for a while. The score pretty much evened out after Boston Dan took off his knee brace and decided to give a much needed spark to his flea-ridden dog pack. That's right, folks, it turned into another goddam football match (American football, ya friggen' idiot) with both teams scoring at will.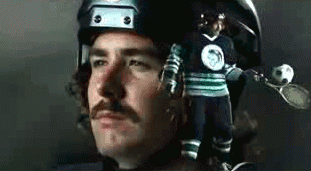 Pictured above: A-Aron 'Rock n' Roll hoochie' Liu decides to forego the usual tools of the trade in an attempt to make things fair
Not Pictured: Liu's patented hybrid visor-cage
Speaking of the dominant Liu bros, or shall we say Super Stache Bros? A-aron 'that hair suits you' Liu took his turn at glory, racking up a triple-triple, for 6 points on the night. Big bro, Liu #2 potted a pair and three Apps for 5 points of his own. (Editor's note: These kids are fantasy league GOLD I tells ya, GOOOOLD!) Franck le Beautiful Skanck picked up a smelly pair of pantyhose for himself while the hottest breakthrough player of the season, Flamin' Shane Anderson, stepped in off the point for a gosh darn ugly one. We caught up to him during the intermission to ask him about his surprising offensive numbers this season.
SA: "I think it all started back during the fantasy league draft, to be honest. You know, when I was sitting there awkwardly and all my buddies' eyes were pinballing away from me while they made their last round picks… that really hit home. I thought to myself, you know what, I'm going to make them regret this – it was the biggest chirp of all. Friggen' Slaney got picked and he only plays once every 6 weeks for chrissakes! I knew I had to score at least more points than Pipski, and if I can do that, it'll be a good season. Adam's crushing it this season though, so there's that."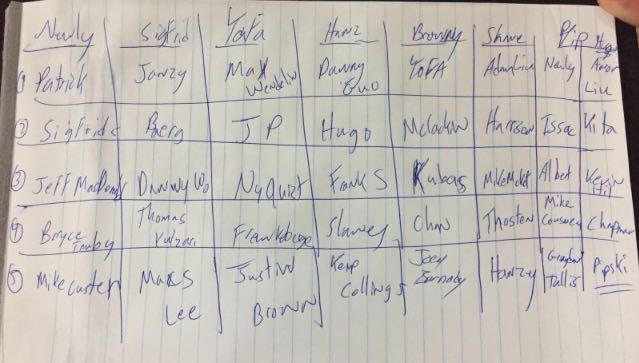 Pictured above: The fantasy league
Not pictured: Anderson
For the Beerdicks, Dan 'Soul Patch' Woahbeyotch was on fire himself, ripping home a hattie and two assists for 5 points. 'Payin' the Late Fees' Ruiz, who has a habit of waking up in the second half, was good for one, but better for three helpers for 4 points on the night. Ryan 'This ain't a charity-son' ripped home a goal and chalked up an assist. And Ol' Fumey Humey capitalized on a beauty set up to round out the slug fest.
Gingerbeards 3 vs. Night Splash 2
In what was billed as the "Battle of the B League Basement" the SHC faithful were treated to an epic clash between the Gingerbeards and the knight splash in game two of the 'Bottle Night Bash.' It was a contest to see who could take the most shots without hitting the back of the net – The Gingerbeards lost.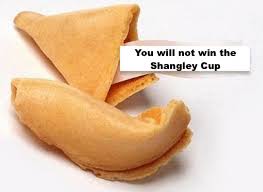 (Editor's Note: BO sent me a box of 4oo fortune cookies this past weekend)
Ice Cocks 3 vs. the Chiefs 0
Ice Cocks beat the Chiefs 3-0 with 2 goals from Mark Cobbett and another by Tommy 中山. Majestic Midori had 2 assists while 2nd-year Ice Cock, Wada 'Make my day' Masakazu, had 1. It was Wada's last game in the SHC as he has been recalled to Tokyo for behaviour 'not in synch with' what his company's code of conduct dictates: A minimum of 4 weekly visits to KTV. Bergman (on the Chiefs) also played his last game in the SHC, but sadly didn't get any points.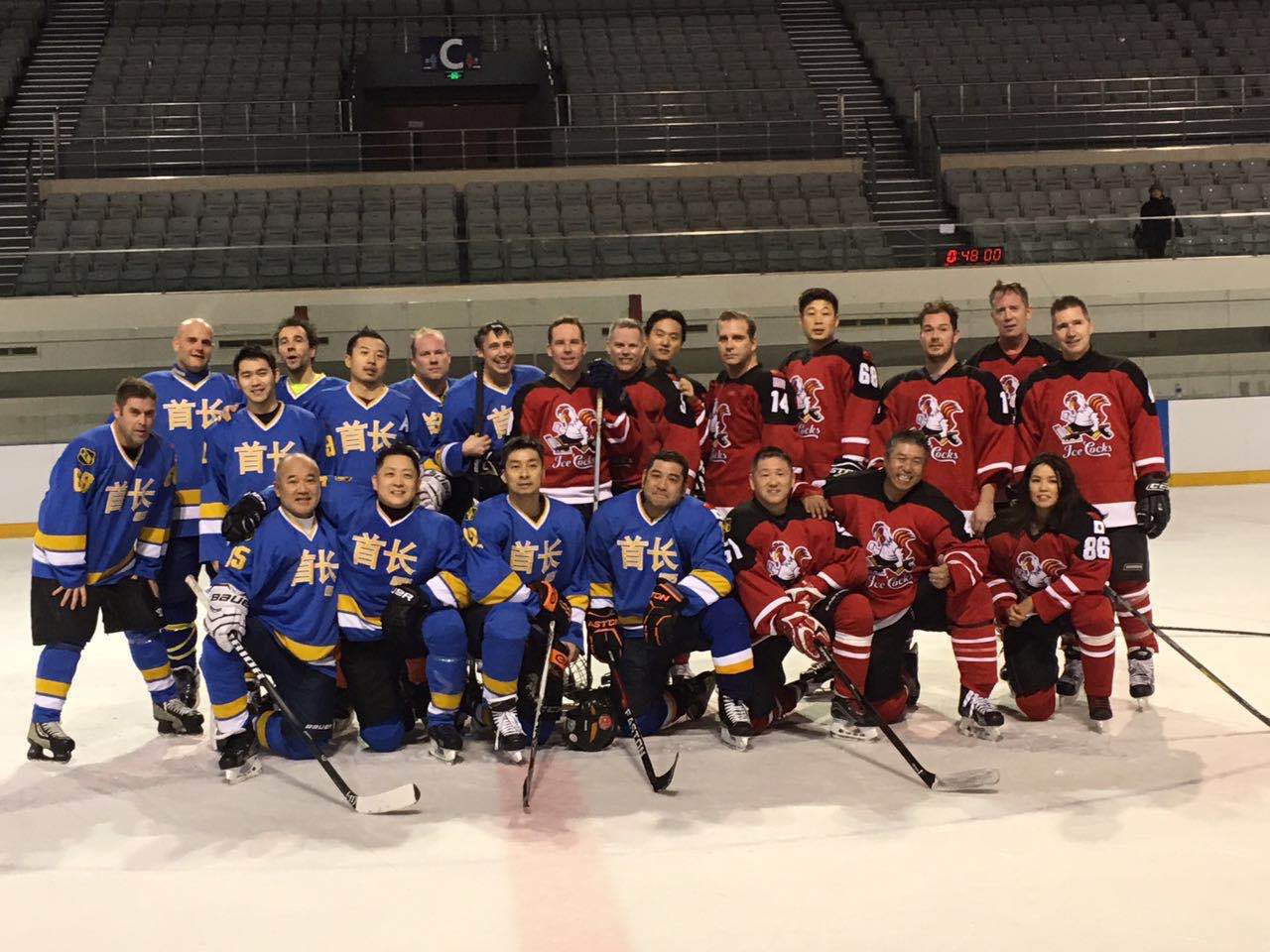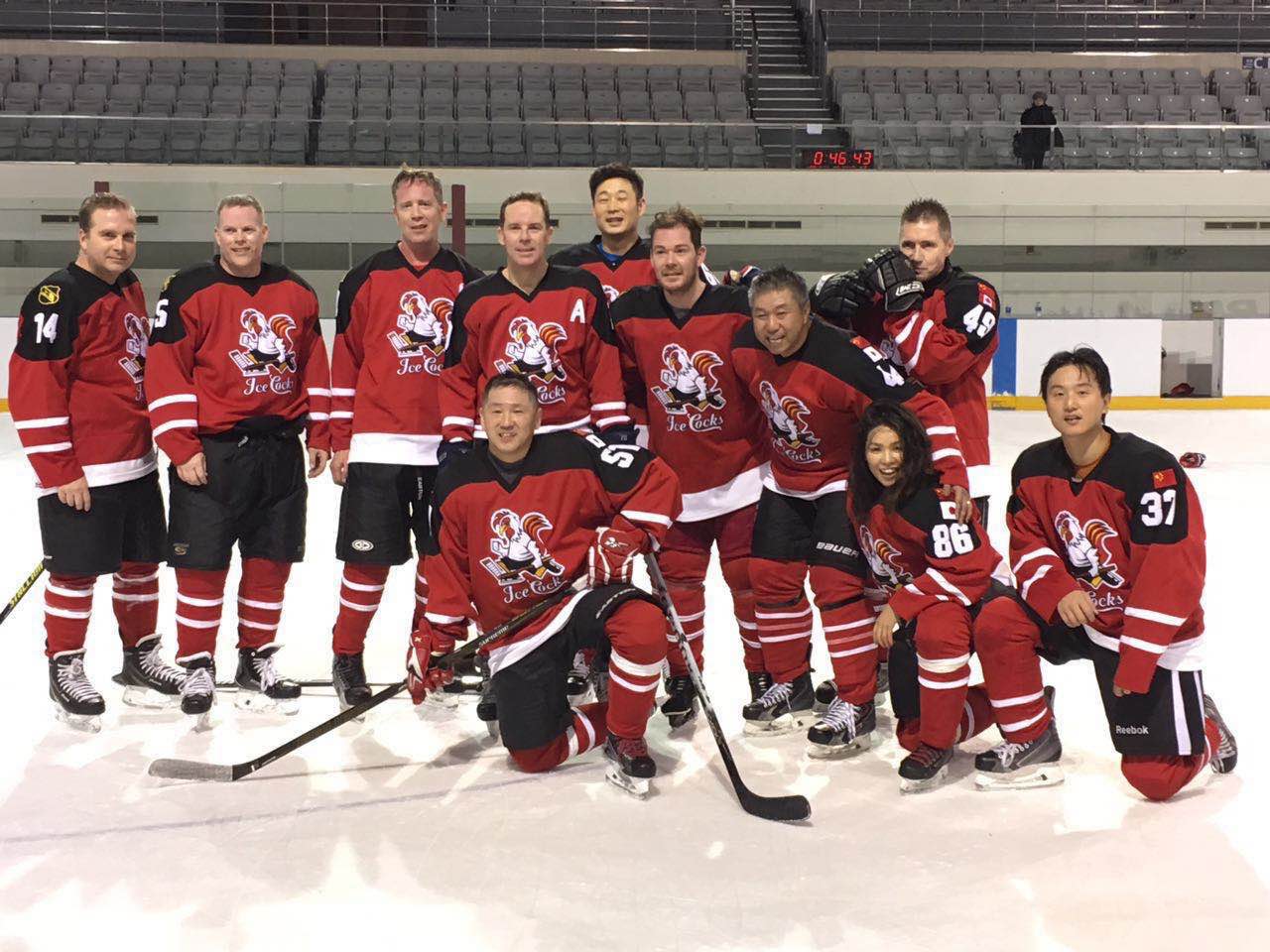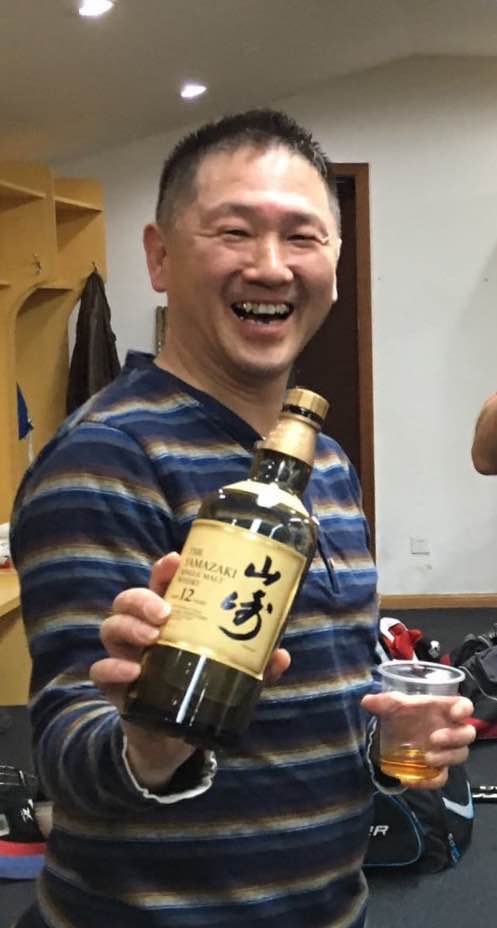 Wada Beauty!
Fever 7 vs. Fog Devils 5
After an eventful and disappointing 6-4 loss to the Barebottoms the night before, the Fever came into Saturday night's tilt with the Fog Devils looking to end the first half of the season on a winning note. The Fever, who were missing 5 key forwards: 'Mad, but working on mellowing out' Max Wendelin, Brad 'Da Beauty' Newly, Mike 'Mchustle Nuts' Mckevitt, Jared 'Fogle' Scotchmer, and Jake 'Locker room All-star' Goodwin, had to get creative in filling out the lines, so they called up defensemen Matthew 'Just Chap it in, Just Chaaaaaaap it in' to play wing for the first time all season.
The move by wildly uncoordinated 'General' Custer could only be described as Babcock-esque as, after a slow start in which they were down 3-1, Chappers (4 assists) and the Fever responded. (Editor's Note: The Leafs aren't doing that well)
At the start, the Fever were led by, Hugo 'Does it have Thalens?', who almost single-handedly beat the Fog Devils. Huge-O scored the Fever's first four goals, with his fourth knotting the score at 4 early in the second.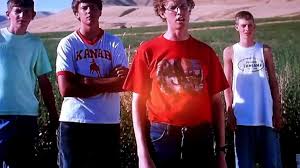 Pictured above: The Fever's top line
After a Fog Devils' goal to make it 5-4, the Fever's second line of Kevin 'Hank' Hill, The Clutz-ter and Mike 'Cous-Cous' Cousineau finally converted on one of their many chances to tie the game on a beauty of a goal. On the play, Cous-Cous faked out the entire arena with his wicked slap pass across the slot. Inspector Clouseau, who was also convinced Cous-Cous was shooting, somehow managed to get his stick out just in time to deflect the shot into the lower right-hand corner of the net past a completely befuddled goalie.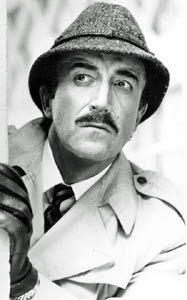 "Sometoimes I solve deh chrimmmme by eh mistaaaahhhhke"
Honey nut Clusters added the game winning goal on the next shift on a shot from the top of the slot that benefited from great screens in front of the net by Cous-Cous and Hill. 'Looks Great in Rayon,' Graydon Tullis added an insurance goal to ice the game for the Fever.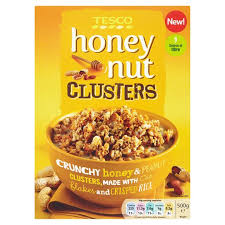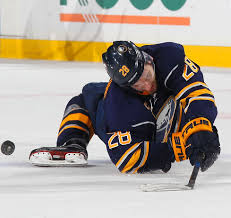 Directly Above: Custer's patented follow-through
Other noteworthy tidbits from the game include Heinz 'Marxist-gout' not taking any penalties, and Marxgut along with Martin 'Skarin is carin' and Brian 'Vapin' while poopin' hard' Pippard playing a great game on D for the Fever. One would think that after scoring 4 goals that Huge-O would have been the Fever's game MVP, but, in a shocking post-game twist, Graydon 'Durex' Tullis took home the honors by supplying the team with celebratory post-game eggnog topped off with freshly grated nutmeg (see below). Merry Christmas!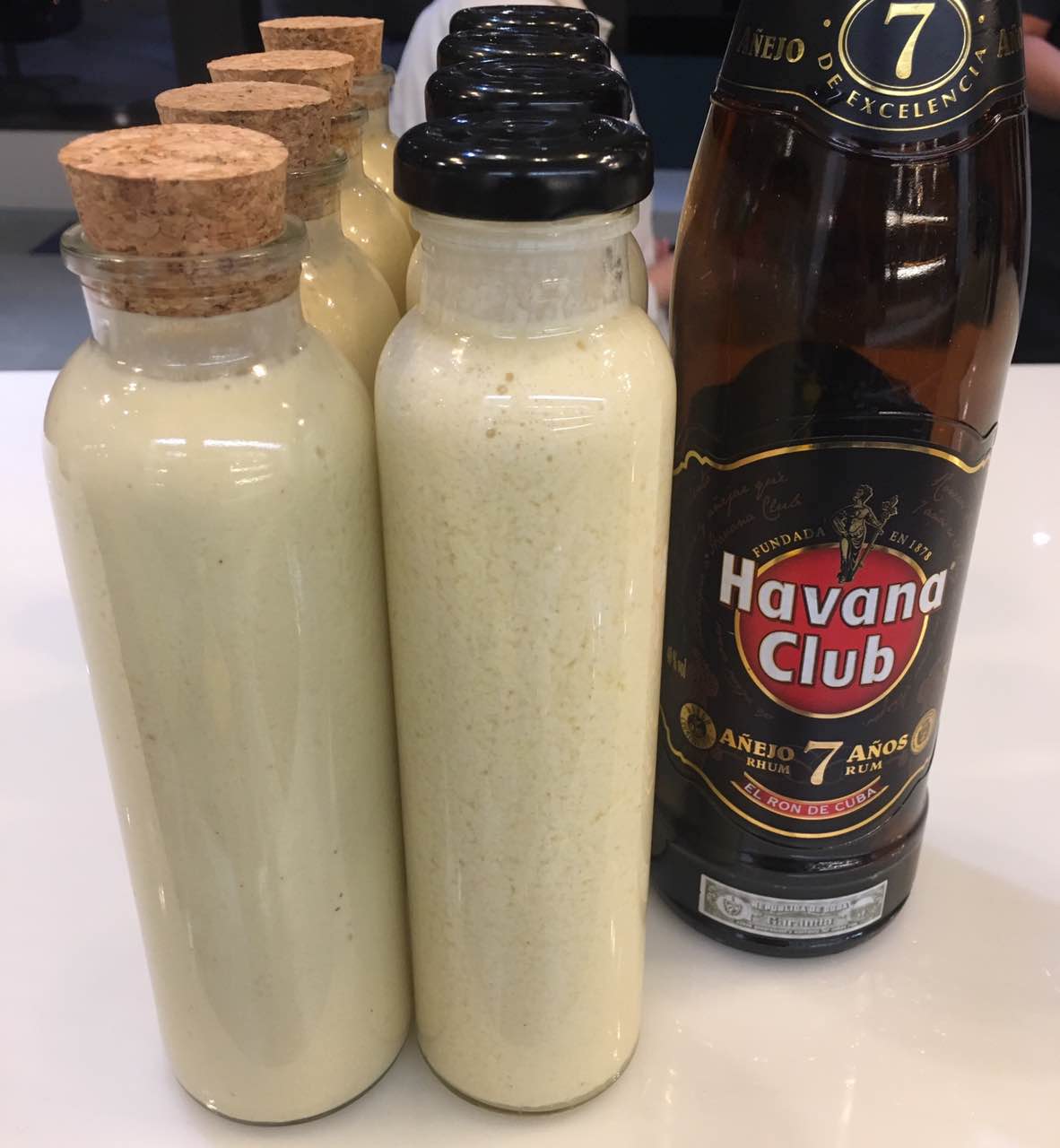 (Editor's Note: I hope that clicking on the gif below makes it work, I don't know what the Hell I'm doing)