THE UNLUCKY WEEK OF DEATH: WEEK 4
Well folks, the infamous "Week of Death" has come to pass, and it proved to be just that for a few teams down at ol' Feeeeeei-Yannnnggggtastic Ice Skating Rink over the weekend. At one point, in a seemingly ironic (expected?) incident, emergency crews were called in to put out a blaze originating in the Lowered Expectations' locker room due to a "carelessly discarded cigarette." And wouldn't you know it, folks – not 10 minutes after they left – the rescue crews were called back to help find frightened and disoriented rookie, Neville Hemming, who somehow wound up naked and afraid in the dark, ill-omened labyrinth that our cavernous storage room has become. Here's hoping Hemming's claims of being pulled into an "upside-down world" somewhere near the Night Splash equipment racks turns out to be more fiction than fact. But bad things happen in threes…right?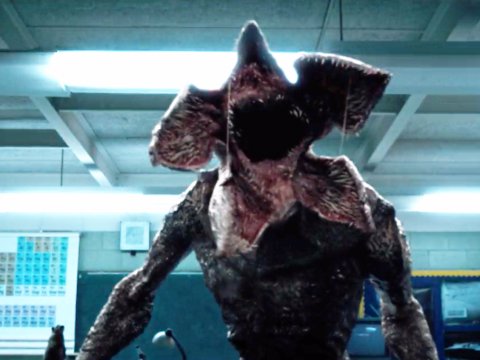 The monster Neville claimed he saw…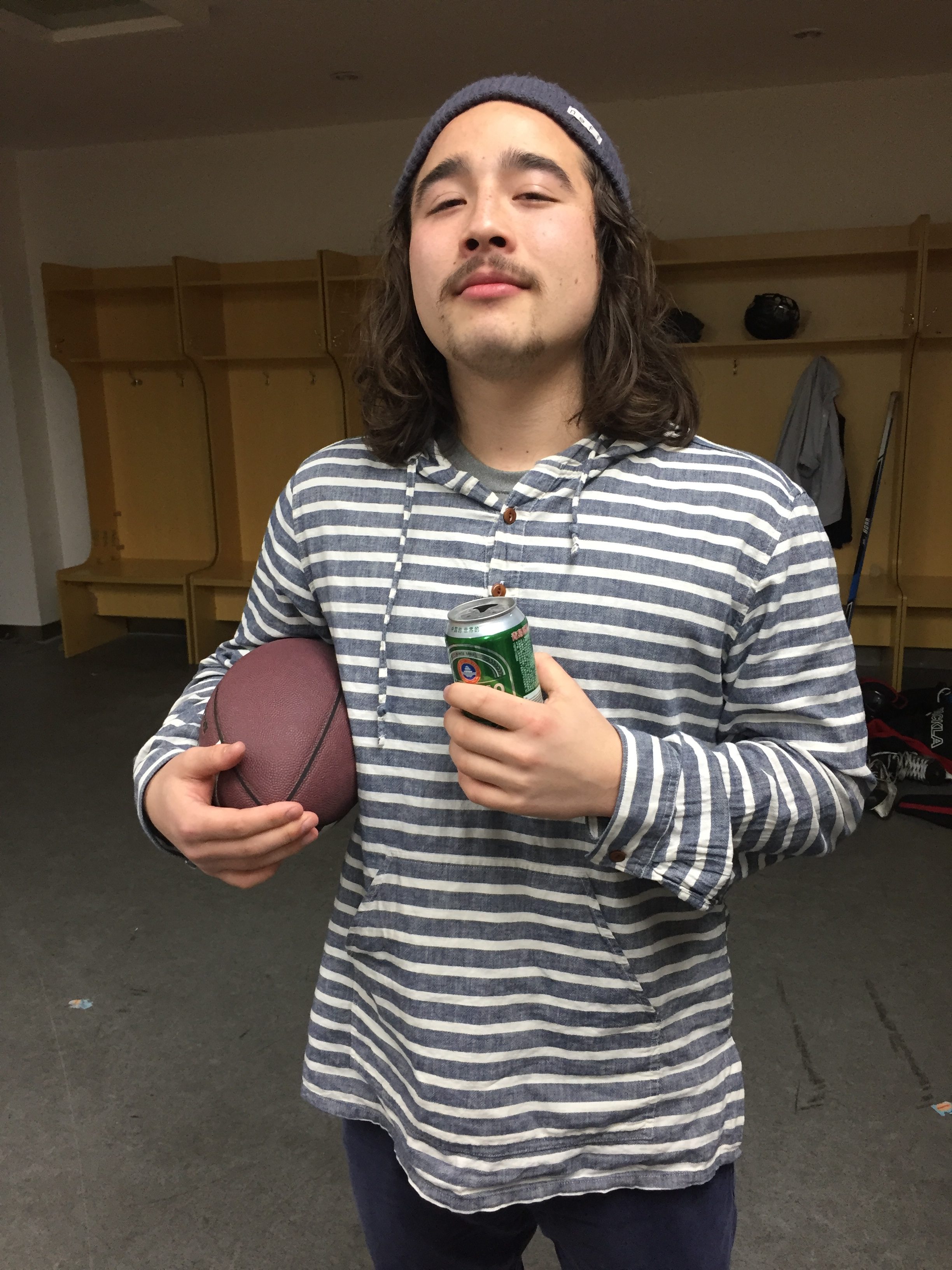 The Hamburglin' bro he probably Did see…
FRIDAY NIGHT
Binqiu Beardogs 5 vs. Dirty Blues 4 (OT)
What a gosh darn barn burner, ladies and gents. If there was one game you should've made your girlfriend come out to watch this season, this was it. Actually, come to think of it, it's probably better that you didn't. This game had everything: sweet goals, nifty passes, deadly dangles, angry Swedes – you name it. Right from the drop of the puck this game was intense. It was a tight battle for a while, with both teams exchanging goals tit-for-tat. Janzy, Jofa, Browner, and Thorse Cock all connected on some beauty passes and odd-man rushes in what looked to be a dominating performance. At one point midway through the second half, it even looked like the Dirty Blues were going to cruise to a comfortable victory, but then some Swedish-speaking man model on the Blues' bench decided to chirp Patrick 'I'm gonna bring ya to your shanna na na na na na knees' Ruiz in a delightfully mocking, yet musical, accent. And from that point onward, 'Easy Breezy Ruizy' flipped the switch, making a mockery of some of the best d-men in the league… on both teams… Figure that one out. He capitalized on some special teams opportunities, potting a shorty and a PP dinger to tie the game up before Ryan Harrison Ford let a clapper go from the hashmarks to drive the dagger home. The Patrick "here's a hat-trick" show delivered lion heart Ryan Harrison a solid three goals on the night. Ruiz himself skated off into the sunset with 4 points of his own.
Luckily for us 'normals', the stupidly handsome and impossibly nice 'Rowdy Roddy' Ruiz left the rink without all of our wives on his arm.
Hamburglars 5 vs. Fog Devils 1
It goes without saying that one of the best things about the 'burglars bench is that they've got 3 full lines of grinders (and 'Grindrs' – download the app and swipe right to find out more!). Fresh off their team-building get together at Parrot bar last weekend, the Hardworkin' Hambies got to work fast, jamming the play in the neutral zone and picking off some ripe stretch passes – as the tenacious 'burglars forecheck tends to do. It wasn't long before 'You done messed up, A-Aron' Liu started sharing the turned-over loot with his fellow band of thieves, picking up three assists on some delicious dishes across the slot. All round good guy, Kemp Kristoffer Kollings (a decent, outstanding citizen who happens to wear a bright white helmet), was the recipient of a couple of those beauty saucers, burying the biscuit with symbolic pride. Joey 'I still can't drink in several countries around the world' Barnaby continued his hot streak by potting one of his own. Not to be shown up, Foggy D's forward, 'Super Nintendo' Nakata, snuck behind the Hambies' dozy defense and struck twine on a nifty redirection when everybody least expected it. Hamburglars' vets, Adam '#2' Liu and 'Jack Johnson' Jackson also rocked a gino.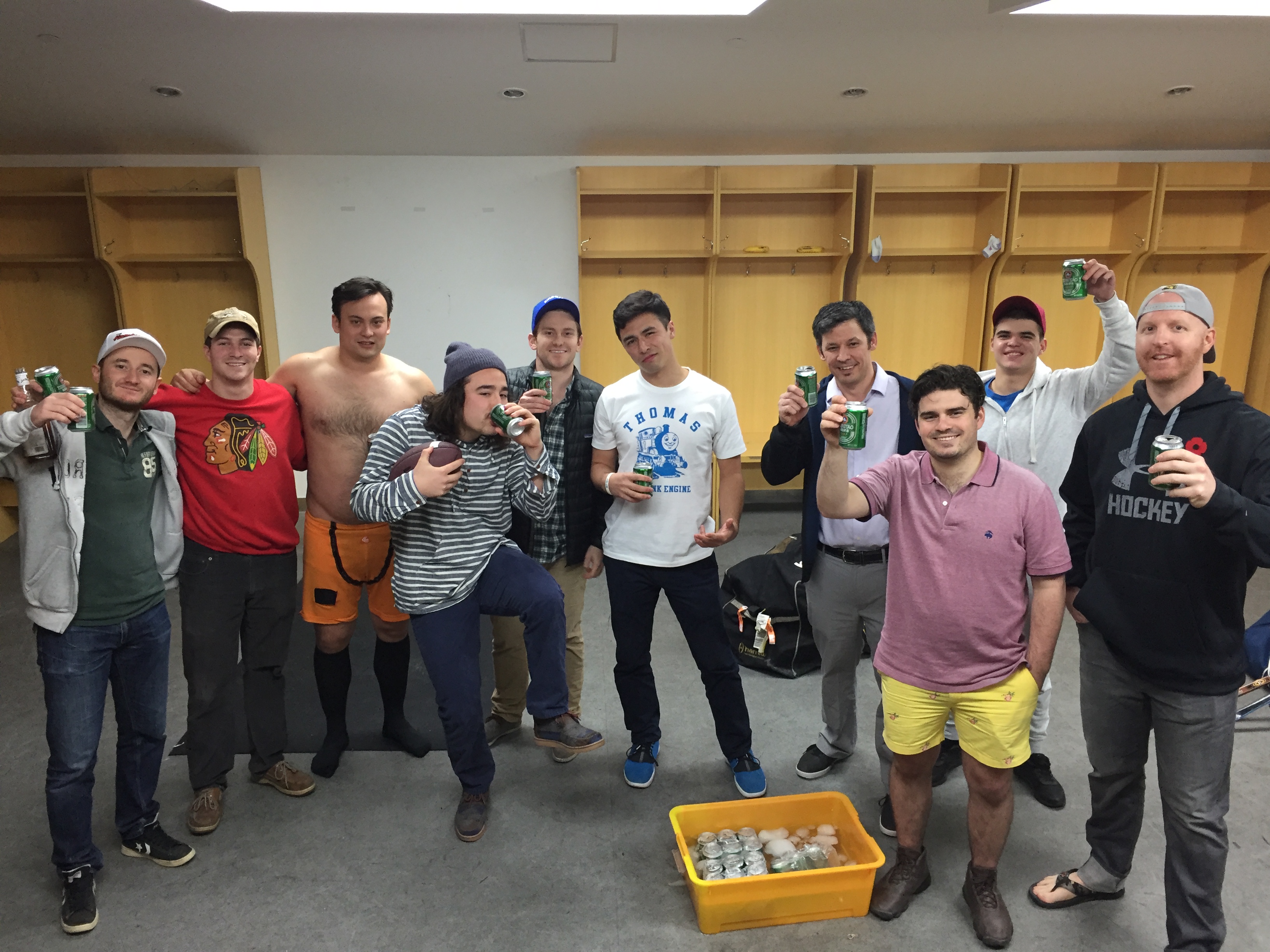 SATURDAY NIGHT
Binqiu Beardogs 5 vs. Hamburglars 2
Well, the Binqiu Bearbastards were at it again Saturday night, looking to end the weekend on a two-and-O tear, which they clearly did – look at the header, you friggen' beaut. The game started off quick, with Patrick 'top cheese' Ruiz ripping a fricken' laser beam through the 'burgs defense directly into the top corner on the very first shift. Apparently Shin hadn't even realized the puck had dropped yet. It wasn't a good sign for the 'burgs, who spent the rest of the game trying to figure out the dominant defensive pair-ups of: 'if I'm lyin' I'm Ryan' Harrison and Jean Poutine Grim-yar-dreams, AND Jeff 'how much of a generic hockey name is this?' MacDonald and Neville 'appeasement is my middle name' Chamberlain.
Ruiz picked up a pair, while Stu 'with or without chu' Chan, Dan 'I just learned how to play hockey and I'm better than you' Wouskchziyeiek, and Will 'no, I'm not related to Adam and Aaron' Liu picked up one a piece. On the 'burgs side of the fence, Action Jackson scored an identical goal to Friday's and Franck Le Skank got a nice one, too.
Luckily for the 'burgs, none of their trophy wives were there to watch Ruizy make it look easy.
Lowered Expectations 7 vs. Gingerbeards 1
With the biggest line up so far this year (9 players), Lowered Expectations showed no mercy to their elderly Gingers in their 7-1 victory. It was clear from the beginning which team would be pounding some geriatric ass on Sanlin's crystal smooth ice. LE constantly got the puck in deep to the Grandfathers' end, leaving the aged but ruggedly handsome Ginger bingers in trouble.
Scoring was started by LE's own Yuzo 'The Wasabi Rocket' Tanabe in the game's early minutes. However, Martin 'The Miracle Pinky' Magnan showed that hockey doesn't need all 10 fingers by ripping the equalizer a few minutes later. After that, Captain 'Sneaky Pete' Helenius stepped up with two heavy boomers that changed the score to 3-1 in favour of the Black squad. The few thousand Lowered Expectations fans could hear the spines of the Gender-weirds snap. The rest of the game got rather chippy as LE continued to dominate. The ginger veneer started to crack when Jim 'BullMoose' Scotti started throwing bodies to the floor and pointing at his next victims indiscriminately.
The final tallies resulted in a hat-trick for Yuzo Yamada, 2 goals for Helenius, and a solid defensive effort by Rekrutiak and Longstreet (who was curiously well behaved and scoring goals like a goddam pro).
I said earlier that terrible things happen in threes… Well… it would seem that somebody crept up on Kevin Martini in his sleep and cut off his legendary ginger mullet we all came to know and love. It was shorn at some point last week, possibly on November 11th, leaving all the Gingerbeards in a deep fit of depression and sombre remembrance.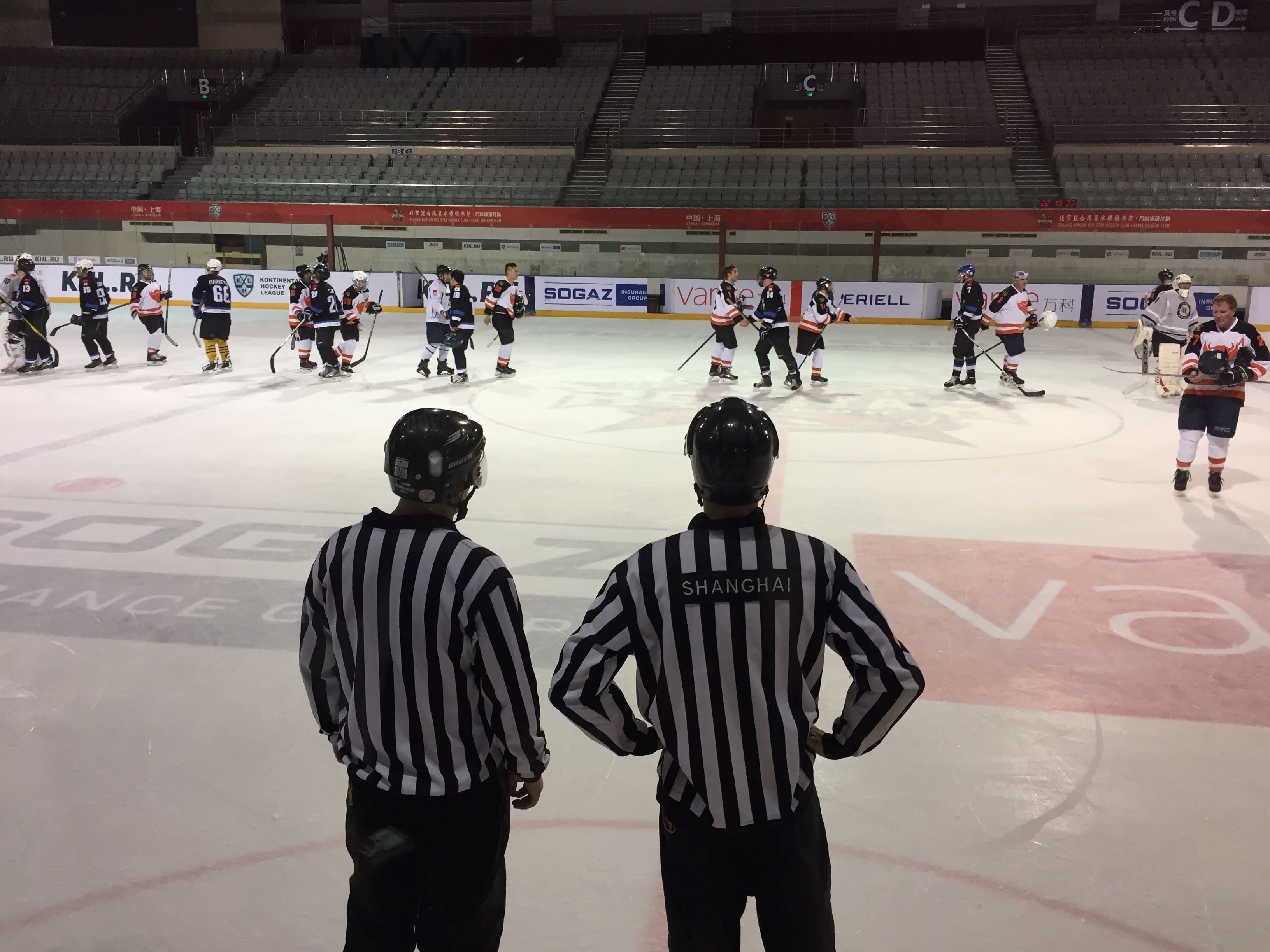 "What the hell were they pointing at?"
"I don't know, man. Wait, where the Hell is my wife!?"
"Hold on, let me Wechat Ruiz – it happens all the time."
Dirty Blues 8 vs. Fog Devils 3
The DBs came into the Saturday game with some sour feelings from the Friday OT loss. After a slow start, when they were down 2:1, they eventually snapped out of the blues and dominated the rest of the game. Although missing key players such as Thor, Siggy, Dunn and Slaney, the night's stellar performance was largely due to two nationalities: Japan and Sweden. For Japan, The B league call up Yuzo, who played on the first line with J&J (Jan/Jofa), scored a hat trick during his first performance in the A league. Moreover, the absolute beauty, Dr. Hide, scored his first goal of the season to mark a total of 4 snipes for the Japanese boys.
For the Swedish contingent, Frederick 'The Nightmare on Elm Street' Nyquist was flying around – like always – proving his place as one of the toughest defenders in the league (he was probably trying to work off his 3 penalties and ejection from the Friday game). Jofa proved, yet again, to be a true sniper and playmaker, and his strong leadership gave the DBs much needed support and confidence. Finally, the defensive pair known as 'The Canadian Border': Browner and Coley, had a strong weekend, making every forward who even thought about stepping over the line reconsider the trip. Overall, the DBs' 3 points from the past weekend pushed them into the lead of the SHC A league. Just another strong signal to their opponents that they are getting stronger.
Ice Cocks 8 vs. The Chiefs 3
The Ice Cocks ran up the score on the listless, Leiskeless Chiefs in the midnight game on the weekend. Dyer, Aspell and Rice played solid D, giving up no real scoring opportunities and also joining in on the offence. Moving to forward, Manfred 'Man Hands' Ortmaier and Cam 'Bon Jovi' Bonspiel had great games. Orts set up ol' slobby Cobbett with a beautiful pass from behind the net for an early goal and Bonspiel hurried hard to get one in on a greasy rebound in the second frame. Cobbet got the hat-trick plus 2 assists to pull away in the standings, while Dyer, Duke and Thompson (who had a pair) rounded out the scoring. Leon Li scored a beauty from the goal line (where it meets the boards) in the first, followed by Berg and Bergie, but it wasnt enough as the previously undeated Chiefs Fitzzled out in their first tough matchup of the season.