Well Folks,
I know it's gonna sound a bit hard to believe, but the amount of ill-fated omens that transpired down at Ol' Unfortunate Feiyang during week 13 action was just uncanny. We had roaming packs of black alley cats in the visitor's locker room; a mysterious case of incurable super-athlete's foot that somehow spread to ALL the equipment racks; and to cap it all off, Barry Roe's lucky horseshoe somehow got lodged halfway up *anonymous member's* rectum during a whiskey-fueled mishap. But eh, maybe we can chalk it all up to BOTTLE Niiiiiiiiiiiightht, Amiriiiiiite? And even though free liquor and inauspicious happenstance do seem mutually exclusive, we're just gonna chalk that one up to unlucky portents…
Also, just to set things straight for all you anonymous callers: no, we will not be holding a fundraiser at Cages to raise money to pay the hospital bills for all the poor souls affected by hand-foot-and-mouth fungusopalypse 2017.
We'll get to the skinny and then some, ya gnarly bastards – just listen to this transcript that Julian, the zamboni driver, recorded when the CSI hazmat containment unit showed up to the rink on Sunday.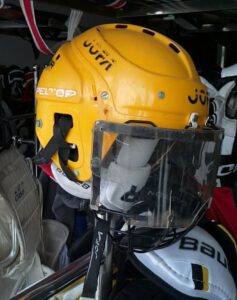 Sexy Blonde CSI: "Hey Stanowichz, I think I found the source of the contagion." *purses lips sexily*
Stanowichz: "Jesus… how old is that thing? Did it test positive for all the residues?"
SBCSI: "*touches finger to mouth suggestively, face flushes* …The tests are off the charts."
S: "Well… that's good… Guess I'll call in the Biohazard containment team. But uhhh, you really shouldn't hold that thing so close to your face – we've got like 28 cases of the most aggressive whole-body fungus we've ever seen, and they were all caused by that helmet."
SBCSI: "I know… I just… can't help it. There's something about the perfectly spherical shape… the rough-and-ready visor… the ultra masculine colour… *breathing heavily* who ever donned this must've been a total badass."
S: You're uh… you're pretty high up there on the hot-crazy matrix, aren't you?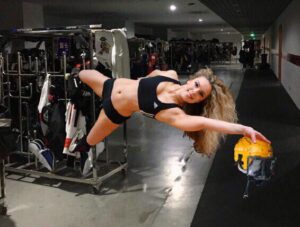 Pictured above: The undeniable magnetism of the yellow 'lollipop top' seduces another unwitting victim.
But enough about that, here's yer friggen' roundup:
---
Friday Night
Ice Cocks 3 vs. Gingerbeards 0
Well, folks – looks like Friday night was Christmas morning all over again for Brian Ohlrich's unwanted collection of red-headed stepchildren, as they were gifted with yet another merciless beating at the hands of their close friend and relative, Ol' Uncle Ice Cock. Most spectators were bewildered by the bastard-child spankfest, especially considering the pre-game conference where the Gingerbeards' healthy scratch, James T. Scotti, confidently claimed that the Gingersquad "knew how to shut Cobbett down." And if that wasn't enough to get the Gingerminge* going, during the mid-season draft they used their executive guanxi to slide the slick-skating (and gentle by nature) Minnesotan, 'I only wear crop-tops' Goffman, onto their team as insurance. How could they lose, you ask? We don't have the answers, folks. They just did. It should be noted that 'Robo Cop-bett' had 2 goals and an assist on 'Bam Bam' Cam Bonspiel's highlight-reel goal as their line dominated the ice in the 3-0 ginger purge.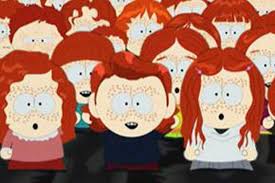 Pictured Above: The Gingerbeard fan club, a.k.a. The Gingerminge
*(Editor's note: Never image search 'gingerminge' on your computer for any reason. Especially if you're a lazy-ass teacher searching for write-up photos at the back of a classroom full of children you're supposed to be paying attention to)
---
Начальники 72 vs. Night Всплеск BYLAD! (Chiefs 4 vs. Night Splash 2)
(Submitted with approval from our friends at the Kremlin)
После жестокой строки потерь, понесенных в руках некоторых неверных западных стран, Начальники подъехала свои носки и вытирать пол с ночным всплеском в пятницу вечером акции SHC. Шама был славный. Он забил много голов звериные, которые сделали несколько друзей леди в толпе теряют разум с упоением. Клоуны, которые думали, что они выиграют в конечном итоге были сорваны товарищем Шама.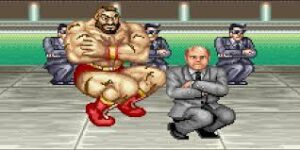 (translation:) After a brutal string of losses incurred in the hands of some infidel Western countries, Chiefs drove his socks up and wipe floor with a splash of night on Friday evening action SHC. Shama was nice. He scored a lot of goals animal that made lady a few friends in the crowd lose their minds with delight. Clouns, who thought that they would win, in the end were thwarted by friend Shama.

Pictured Above: Shama throwing some post-game shade at the Chiefs on WeChat.
---
Saturday Night
Gingerbeards 3 vs. Chiefs 2
So after two Doughnuts in a row, The G-beards captain spent Saturday afternoon looking for some inspiration for his 'B-leaguered' team. He knew there was only one way to snap them out of the mid-season doldrums that seemed to plague their every shift and shot in their last two outings.
What he found was the old stand-by so often implemented in the SHC to inspire and infuse lackluster players and cause even the meekest of players to quiver in excitement – Bottle Night!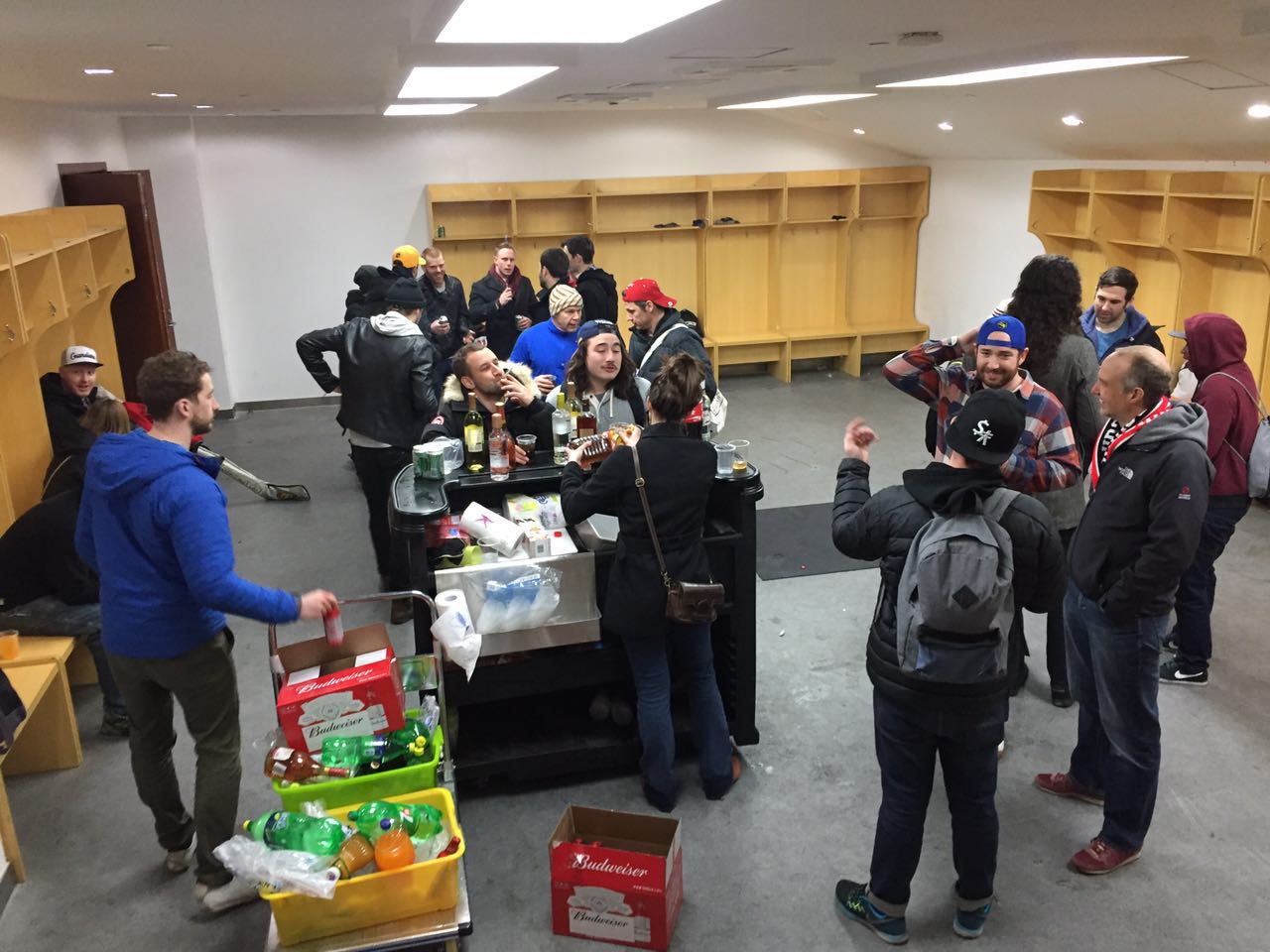 Yes, promises of Copious amounts of alcohol – good "Ol' Uncle Jiu." All it takes is the sight of that trusty SHC wheeled satisfaction Station parked on the side of the rink to inspire mild-mannered Linemates to dish the sauce, and put away the biscuits in an effort to get their Drink on.
The first Ginger Gino came from none other than 'the boom box' Boomi Lai early in the first. A short while later Jeff 'Hot Pot' Lubach strolled into the crease for a showdown and sniped another pot shot through the pipes. In the post game interview he had this to say:
"Just wanna say thanks to Waylon and Willie and the boys. If it weren't for their guidance I ain't quite sure I'd know just how to get along."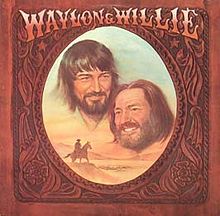 (Editor's Note: Look'em up, ya beaut!)
After a brief run at the net by the Chiefs, which put one scratch on the board for the "First Nations' boys" it looked as if they were going on the warpath. Little did they know, G-beard himself had a secret weapon he was keeping up his smallpox-riddled sleeve. It seems that sometime that afternoon while searching the house for inspiration he looked under the couch and found his shot. Yes! The ginger chin himself threw it down at the blue line and let one rip right through the crowd and into the back of the net!
Despite a late arrow to the back of the wagon by the Chiefs, the Beards held on for the 3-2 win. Things got a little temperamental during the remaining play when 'Vape Train' Ben Briandet decided to take run up the boards at Barbarossa himself! But despite the comical smokescreen laid down by the Vape Man, the train derailed and crashed to the caverns below.
The verdict from Judge Kitamura sent the ginger to the box, sayin', "Train robbin's a hangin' offense in these Parts."
"Make-ah NO mistak-ah. Do like this again – I will KILL yewww – hahahahaaaaa-ah"
---
Beardogs 3 vs. Fog Devils 2 (OT)
SHC Bottle Night was Saturday, but why wait? The Beardicks were reportedly seen making Friday night count at nearly every dive bar in Shanghai. Then Saturday rolled around and most of the cub-pups barely crawled out of bed to make the game. Add to that the last-minute healthy scratch of Polish Phenom, Kirpatrik Ruizowicz after the FD's called in a bomb threat against his flight, and this was a recipe for disaster for the hungover 'dog's breakfast' crew.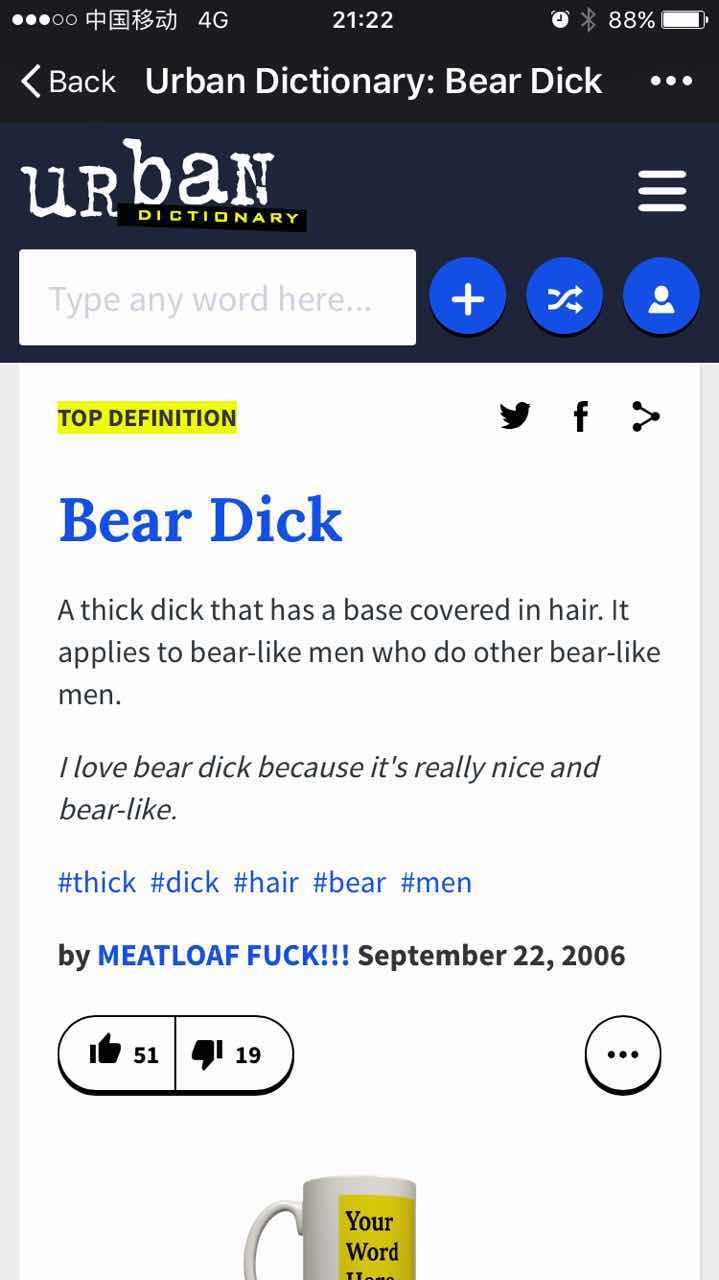 The game started like a hangover and stayed that way through the first, with no real meaningful chances at either end of the ice, though the FD's had a few power play chances. The uneventful 1st gave way to an action packed 2nd, with the fireworks starting when the goalie of steel, 'Clark Syerkent', believing himself to be faster than a speeding bullet, made a dash for a long breakout pass, diving at the blue line in an effort to knock the puck off the onrushing forward's stick. Fortunately, Ryan 'Harri' Houdini-son won the foot race to the open net and did his best Tukka Rask impersonation, making a magical save… only to realize that Brett 'the Hitman' Shart was still way out of position near the blue line (probably wondering whether it was 'just a fart'). Ryan then spun around like a goddam hero to deny a second attempt from his Fog Devil's brother-in-name, Ryan 'Hodor' Baerg, who rang one off the post.
And wouldn't you know it, folks, a big defensive play at one end leads to an instant dagger at the other. Newcomer, JS 'Parky park and the funky bunch', threw a puck at the net from a tough angle, where Mike 'I'm coming out! …of my Schell… but only for playoffs…' was there to bang in the greasy rebound to give the Beardogs a 1-0 lead.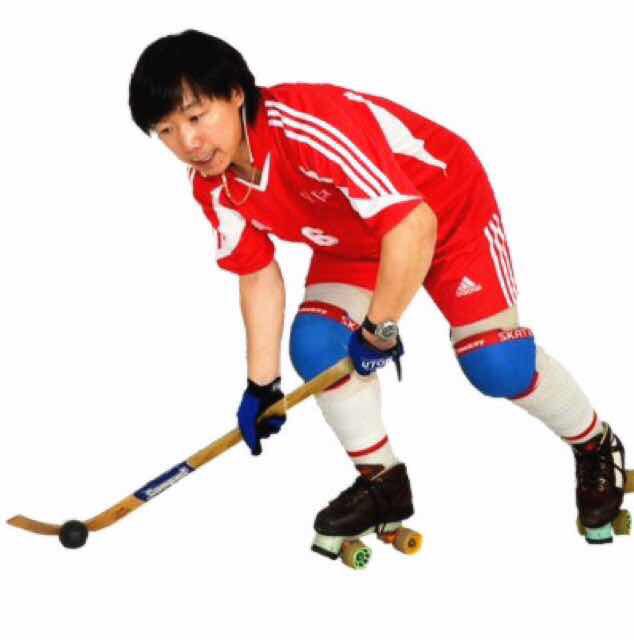 Whatta friggen' beaut
The minutes ticked away, and it looked like this one would go into the books as a low-scoring affair. Then the balance tilted. Heavy FD stick work led to a "turnover" that some crafty bastard (Hans Von hard pass maestro) used to spring Danny G-note on a breakaway, where D-Guo pocketed one in the 5-hole to make it 1-1. A few short minutes later Kita decided the "2" in his 2-on-1 wasn't necessary, so he rifled a cannon from the high slot to make it 2-1 for the Foggy D's with only 2 minutes to guo.
However, the Beardicks, who've made a habit of coming back late this year, came to form again as the ensuing draw led to a rush into the Foggy D's end, with a flurry of activity in front of 'I only fly Coach' Roe. Somewhere amidst the 8-man scramble, the puck squirted loose and Warlockah-boomshakalakah-shieck tied the game at 2.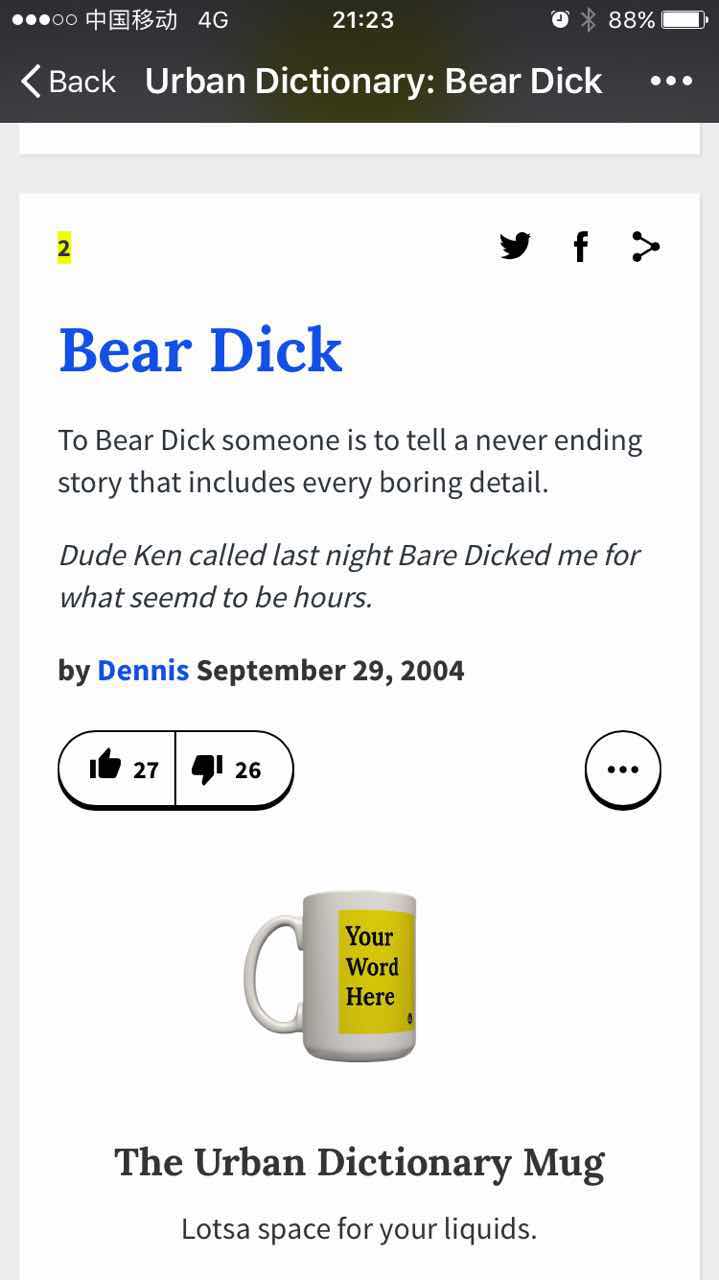 (Editor's Note: If I hadn't been banned from Urban Dictionary when I was in college we could've made this a lot funnier)
Message received: On to overtime, no need to say any more. OT + Beardogs win = Ryan Harrison, in another all out scramble in front of the net.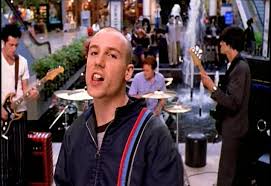 "Holy sweet Jesus, is that late 90's "New Radicals" frontman Gregg Alexander?"
"nah man, that's OT hero Ryan friggen' Harrison"
(singing)
"…You've got the music in you, don't. let. go. you've got the music in you, one dance left.."
---
Ice Cocks 4 vs. Night Sploosh 2
Ice Cocks held on to beat the yellow team in yet another close Bottle Night battle. Newcomer, Tim 'Coch and Roll' Hoochie Koo, moved to center and caused all kinds of trouble on a line with Jay-league McKelvie and 'The Angel of Death' Wang. (See below:)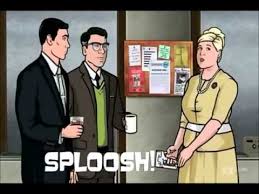 (Editor's Note: This looks like one of the best lines in the B league right now so watch out for Suzuki's band of premature discharges come playoff time).
Luckily the Ice Cocks got great defense from Tommy Bahama Nakayama, Robert Aspell and Steve 'Schiesser' Dyer (who scored another goal). Not to mention the solid goaltending from 'King Kong' Karl in the shutdown second half to hold on for the win.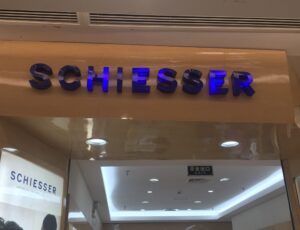 A subsidiary of Teeny Weeny Inc.
A Special mention to the 2 LTP/Shinny die hards: Mighty Midori played a strong positional game and had 2 well-played breakaways as a result (though she clearly failed to score, otherwise we'd have written about it by now, ya friggen' beaut). Usami, on the other hand, splashed in a rebound to keep his team aroused late in the game. Good job, ya dusters!
---
Hamburglars 4 vs. Fever 3
Well, it goes without saying that this one was a nail-biter, folks. How else would the SHC finish off its Bottle Night festivities, with a blow-out? Nahhhhhh. After some of the tightest action we've seen all year (huh huh) the 'burglin' bunch and the ever-yellow Fever squad hit the ice with some old scores to settle. And by old scores, we actually mean the Fever trying to get a win against the Hambies for the first time this season.
Unfortunately for the ill-fated Fever, the full-body contact strategy just wasn't enough to put the Hambies into the dirt, as the scoreboard still had the Burglars up at the buzzer.
A huge shout-out to game 17-year-old game MVP, Joey Gu, who tallied a sick game-winning snipe, yet suffered another questionable open-ice hit for his efforts.
We tried to get a comment from him after the game, but he was too busy trying to work out the meaning of 'non-contact' in his Casio Chinese-English translation device the other Hambies' members bought him for his 17th birthday.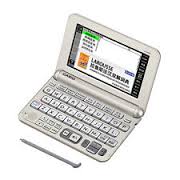 "Wo bu zhi dao… *sighs* Ta men gan me? *rubbing bridge of nose* Wo bu dong…"