Editor's Corner
Well folks, it's high time I made an apology,
Most times before sending an article to the press, we here at the SHC consider all the unintended consequences our reporting might have on our beloved SHC community. Unfortunately for us, we didn't really think 'week 11′ through. You see, after last week's roundup it didn't take long for our fans to take to the phone lines en masse. It appears that many of our beloved puckheads were discontent with what they believed to be a glaring oversight on our part.
The problem lies in the fact that we gave props to the 15 new members coming into the league for '…making the SHC beautiful again'. However, as a few hundred fans pointed out, the reason our loyal fanbase keeps coming to the rink can be summed up in one glorious poster: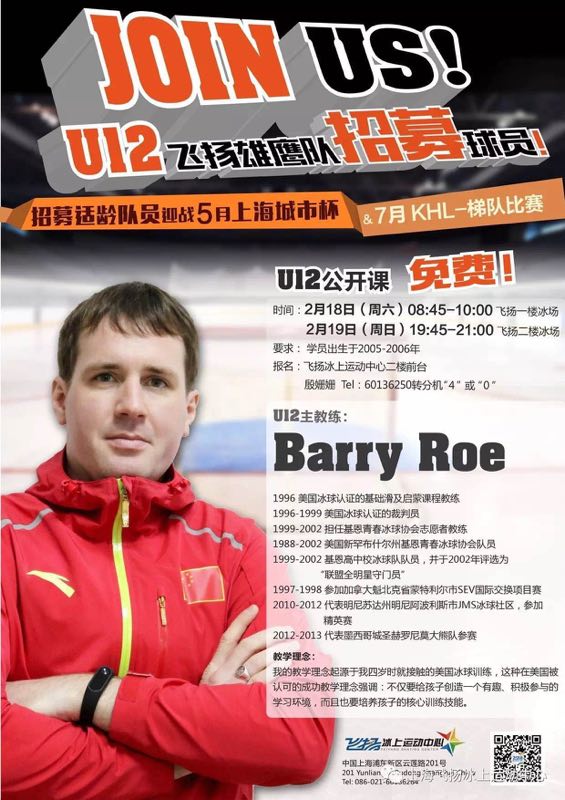 The broad-shouldered, confident power-fold; the fully-fastened zipper emanating an essence of security and responsibility; the caesarean haircut symbolizing the strength and invincibility of an unshakable Roman empire; even the Xiaomi fitband – a bold choice that would be seen as pandering if worn by other Western celebs – all of it contributes to the universal allure and unquestionable value of our very own, Barry Roe.
Callers also brought attention to the fact that B-Roe's acting chops oftentimes go unnoticed (largely because he only stars in movies produced in China). Below, we can see him in a promotional shot for the upcoming gritty remake of 'BRoekback Mountain', where he stars along side Will Smith. The film apparently follows the budding relationship between two 'bad boy' cops and aims to bring the masses together by 'easing' the 'swelling' racial tensions in the US.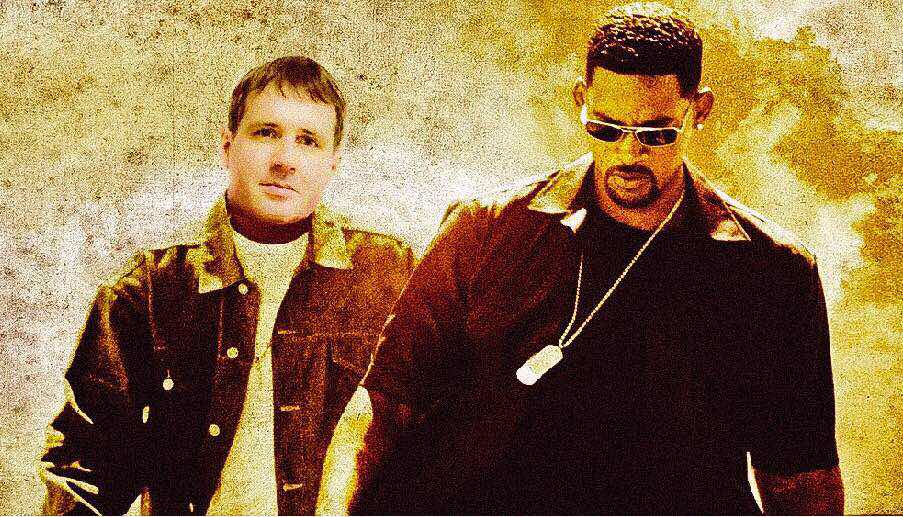 "Easing swelling racial tensions in a dimly lit theatre near you"
But okay, I admit it, we were wrong, folks. The SHC was already beautiful. The last thing we want is to be confused with one of those fake news outlets. So now that that's out of the way, here's your friggen' roundup:
---
Friday Night
Fever 4 vs. Fog Devils 3
The ever yellow Fever boys edged out the Foggy D squad 4-3 in the opening game on Friday night. Highlights of the game included Jared 'Single Malt' Scotchmer making it a double, racking up his first two SHC goals!! both snipes were served up by all round good guy, Mike 'Attracted to his' Cousineau. We reached out to him for a comment on his rookie teammate's milestone, but he was too busy figuring out the perfect wording for his response to this summer's upcoming 'Cousineau Family Reunion' invitation to give us a word. 'MchustleNuts' Mike McKevitt and 'Big Macs' Wendellin added the other tallies for the Fever.
---
Hamburglars 3 vs. Dirty Blues 1
Ho sweet Jesus! This was less of a game played by the Hamburglars, and more of a goaltending clinic put on by the terrifying tandem of Barry 'Death Roe' and Brett 'The Hitman' Syer. Word on the street is that movie execs in the booming Chinese movie industry are already adapting the real-life story to the big screen (clearly banking on Roe's effective branding in the Chinese market), having Roe and Syer play themselves in the lead roles: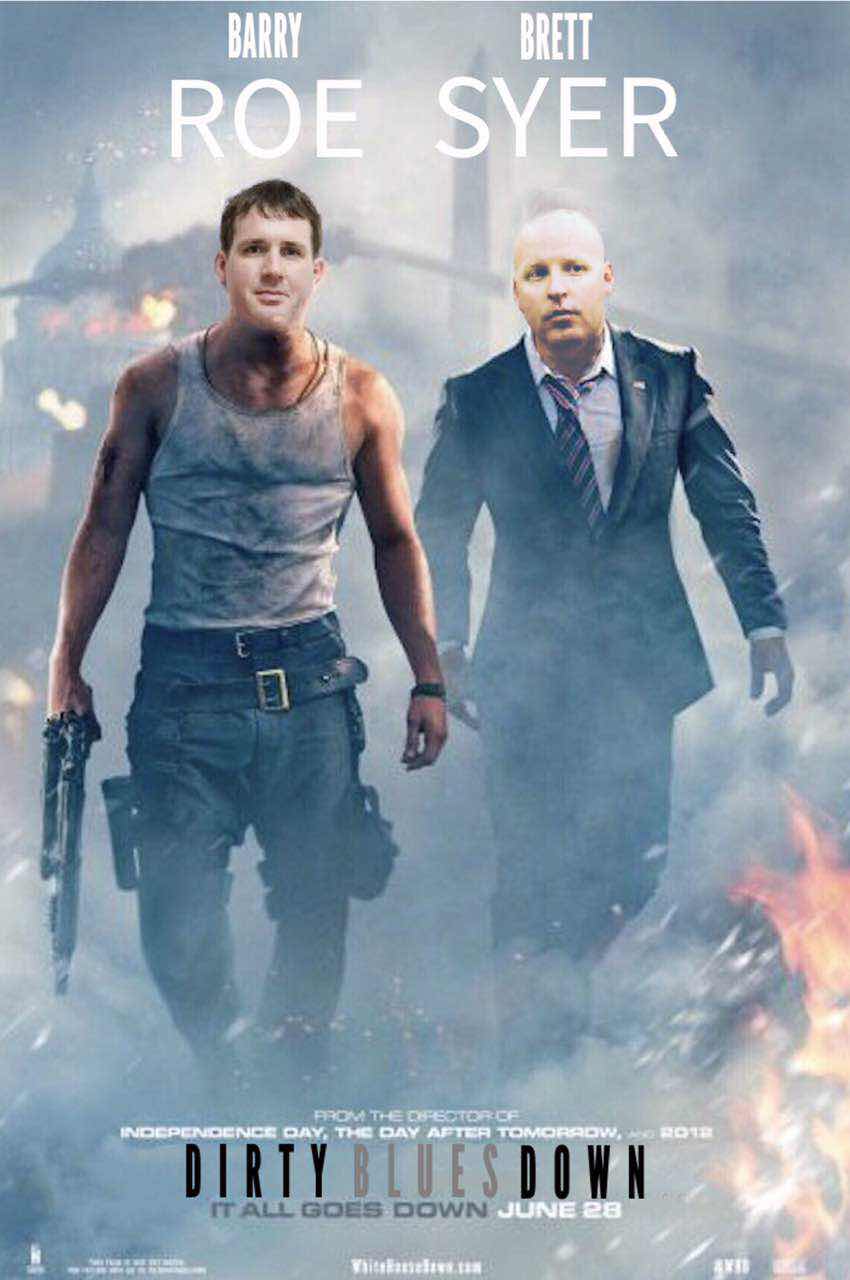 "Dirty Blues Down" From the same studio that brought you "Beijing Bikini Bonanza 3: A Mark Simon Joint"
In a game that saw the 'burglin' bunch beat the DB's for the first time this season, the real story was how a decimated Dirty Blues squad of 8 skaters controlled the game but couldn't manage to put the puck in the net. Paris Baguette aficionado, Franck Saulnier, scored two (including an empty netter), while league points leader, Aaron 'my hair's never askew' Liu, potted the other. We caught up with a disgruntled 'Dimebag' Darryl Slaney after the game to get his thoughts on his highway robbery he suffered at the hands, or should we say 'glove hand', of Syer:
"Oh yah, Bawd! I was right thar in the slot, ya know, just waitin' to snipe that greasy rebound toooop cheeeedar, when outta nowhere this guy just windmills the ol' leather straight up n' over, ya know? I haven't been that let down since they cut me off at wing night at the Shed a few weeks back. It was Baaaruuuutal Bawd!"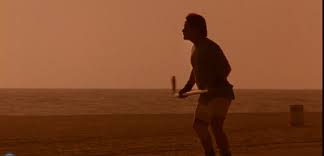 Actual game still of Slaney's disbelief after Syer's unreal save
To be fair, 'In-Slane in the Membrane' added to his career stats against the Hambies with a sweet blast from the point in the first half, so there's that. Other Dirty Blues players, Jan, Freddie, and Jofa couldn't be reached for comment as they were apparently on the phones with their lawyers. It appears that being depicted as "stereotypical, well-dressed European villains" in the upcoming big-screen adaptation doesn't sit quite well with them.
---
Saturday Night
Hamburglars 8 vs. Fog Devils 6
With both Brett 'the Threat' Simonini out for the Hamburglars due to his son's traditional bris or something (look it up, ya beaut), and Foggy D's el Capitan Hans 'You Can Take my Jock Off When I'm Dead' von Meister sitting out so that he could judge the debate between a bunch of overachieving Chinese preteens, both sides sported 9 a side.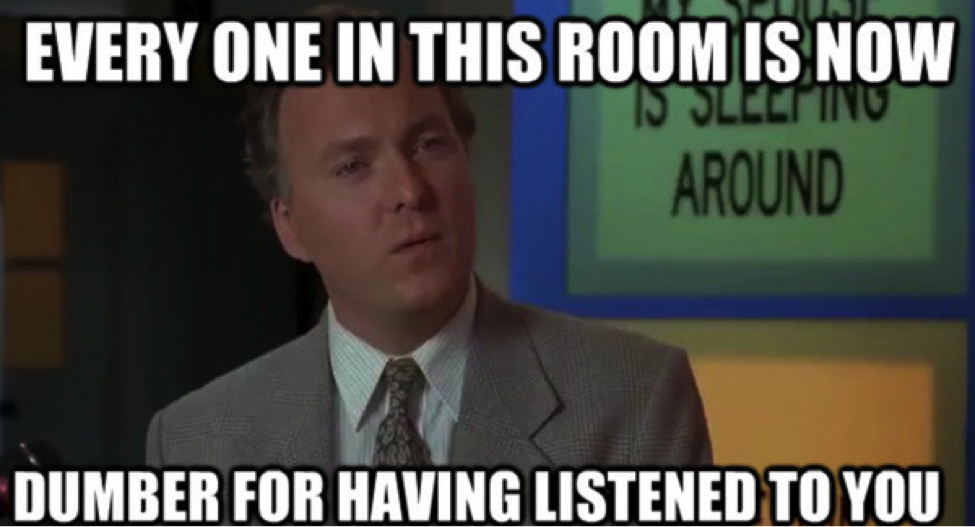 Pictured above: Hans, probably
The game was off to a fast start when just a few minutes into the first period Geoff "Better Late Than Never" Ng no-looked his way onto the scoresheet with a pass in front of the net from Franck "HOW DID YOU GET FREE BEER?" Sauliner. When asked after the game how he scored the goal, his first of the season, Ng recounted,
"I kinda just closed my eyes and thought about all those embarrassing times in high school that still keep me up at night. That kinda gave me the rejection rage I needed to thrash about wildly until I connected with the puck. Sort of like when I strike my pillow in the middle of another midnight flashback."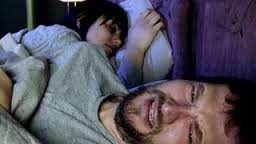 "…fuggin'…stupid… piece of shit…. stupid…. NGGGGGG!" *pillow strike*
The first period was lookin' like everything was comin' up Hambies as Aaron 'If you grow a better mustache than me I'll fight you' Liu, Adam 'I'm older, goddamnit' Liu and Franck 'everything but the kitchen sink' Sauliner put the Burgle-boys up 4-1, with the lone Foggy D's goal coming from Tyler "Mid-season Maestro" Perro. But in the last few minutes of the first, the D's turned on the juice, pocketing 2 more g-notes thanks to Jarred "Fogle" Kubas and 'Parrot Bar' Perro, making the game 4-3.
The rest of the game ping-ponged back and forth with the Burglars adding a goal to stretch the lead to 2, then the Foggy D's responding by taking a penalty and scoring on the kill. On one particular PP, Franck "Foie Gras" Sauliner was McRobbed by Karl the Kraut on what should've been a wide open net. The puck came down the other way, where Kita "he who shall not be nicknamed" Kitamura blasted home a slapper from the Ovi Zone, as if to challenge Thorsten to a "Shea Weber Contest" of hardest shot in the SHC…and by 'Ovi Zone', we mean the goddam hashmarks…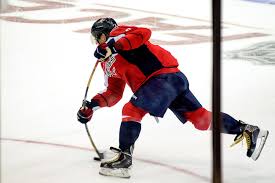 "Hope you had a good week at work, beer league goalie, I sure as f@$k didn't."
Eventually, thanks to the offensive efforts of Macs 'Relaxed' Lee and Danny "Danny" Guo, the Foggy D's tied the game with about 5 to go. The deadlock was broken by Kevin 'BRoeckback" Jackson with his classic "bar-down through traffic with no regard for human life or half-shields from the blue line" wrister. (Editor's note: for real doe – dude does not GAF about yo face)
With less than two minutes to go, the D's pulled their tender for the man advantage, but were ultimately thwarted by an errant backhand from Isaac 'Netflix and McChill-trick' that went wide and found its way to the stick of one of the Liu bros (who cares which one, amirite?) for the lucky number 8 goal – just to satisfy the Chinese gods of luck and totally reasonable superstitions.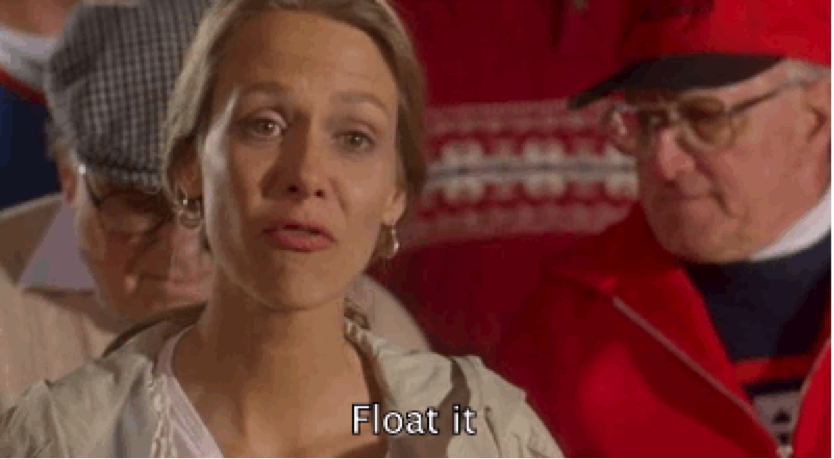 Pictured above: Isaac's GF/Mom, probably
---
Ice Cocks 4 vs. Night Splash 3
Saturday's matchup between the Ice Cocks and Suzuki's Nocturnal Emission squad was deja vu all over again. As usual, Suzuki's band of sexual deviants built up a commanding first period lead before folding like a cheap origami swan in the 2nd. IC's had big goals by 'Haiku-Wu' to start the comeback and Matt 'Bintang' Zhang with the game winner. 'Taladaggart nights' Thomson and Tommy 'Bahama' Nakayama also scored for the winning team. The losers' goals needn't be recorded in the annals of SHC history, and therefore aren't noteworthy.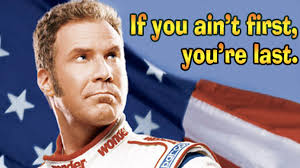 ---
Dirty Blues vs. Fever
Well shit, boys. Somebody won. I mean – they must've, Right?! I mean, if the Dirty Blues wasn't loaded with a bunch of Eurotrash fun-boys, maybe…juuuuust maybe we'd get some quality game reports. I bet they speak 17 languages on that team. Not a goddam one of them is English doe. Seriously, all these calls about Roe, and not a single friggen' update from the Fever/DB's game? Jesus. Browner, Coley – you speak English, you lazy bastards – get on it!
---
Lowered Expectations 3 vs. Gingerbeards 0
Bonne nuit, mes amis,
When the Shanghai tower and bottle opener turn their brilliant lights off, you know it's the magical hour LE lace'em up and paint their ritualistic murals on the ice at Feiyang hockey Mecca – such is the je ne sais quoi of liiiife. hon hon hoooooon!
This week featured the crème de la crème of the Shanghai Hockey League, LE en noir vs. Gingerbeards en blanc. C'Est Ouf! LE showed up with 8 players, but GB had a full roster. Even Trevor 'Boomi' Lai was back on the roster despite the year-ending injury he suffered only a few weeks ago. We're not sure what miracles traditional Chinese medicine pulled out of their ass this time, but the boy was like a young, veiny Cock out there (rooster, ya beaut!). In the significant Mid-Season draft, GB boosted their team with another top player, 'Over the Top' Goffman, who, along with Martin '18-wheeler' Magnon, obviously formed the most dangerous pair on the GB side.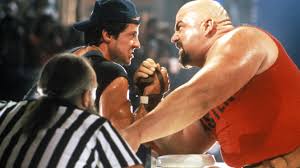 Pictured above: Magnon and Goffman just havin' a wrestle to see who'll take the face-off
Due to the line up difference, LE was forced to change their game plan. The first period went back and forth, both sides getting a shot or two here and there. LE kept line changes short, whereas the little white sisters kept their lines out for longer than necessary, causing players to lose their rhythm. Taking advantage of the lull in the battle, 'Peg Leg Petey' Helenius made a beautiful coast-to-coast skate, potting the opener and game-winning top-shelf goal. Energy from the goal gave LE a huge boost, and only a few minutes later it was Harvey 'Farva' He's turn to tap one in, giving the good guys a 2-zip lead.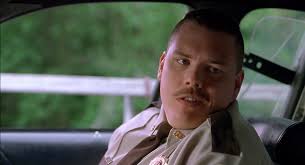 Pictured above: Harvey 'Farva' He (watch Super Troopers, ya beaut!)
But LE wasn't done just yet. Only a few minutes later Markus 'Spahrkus Plug' Spahr put a questionable goal in, making it 3-0. SHC tender, Jason DeVorhees protested heavily about the call, but vet ref, Shapely Matt Whately was deemed to be in a prime location to drop the full-armed chop, sanctifying the legitimate goodness of the goal.
GB's rallied in the second half with their full 8 lines, so obviously LE had some issues. But official (and extremely accurate) records show that only 4 shots were delivered during the second half.
During the post game press conference, several CCTV and TSN reporters wanted to know why the GB squad felt they weren't able to score. Captain BO replied,
"We are an old team. Regardless of how juicy and tight the opportunity, we always have difficulties getting it up and putting it in."
Assistant Captain Magnon commented that,
"it's hard to find the hole without any hair around it. I've grown used to a certain way of closing the deal."
Luckily these comments were ignored by the press.
Le player, Johnny 'Yo Ma' Ma commented on the game,
"Yeah, you know. Once you put this black jersey on, it's all about the team, we stuck to the plan and executed it well. We don't seem to have any scoring problems."
Maybe he was referring to a couple of LE members missing from the game due to the newborns in their families?
The SHC would formally like to congratulate both Gary Li and Yuzo Yamada on their new babies at home. You beauties. Good job, boys!