Welcome back, Folks! (about time, amirite!?)
We've been out of action for what seems like an eternity, but our legions of lovelorn fans came out in droves to watch the SHC resume play this past weekend down at feisty Ol' Feiyang. Reports from around the community suggest that the revamped surge in game attendance stems from the addition of 15 new players, most of whom are rumoured to be impossibly gorgeous man models from all corners of the globe. Now, far be it from me to give credit where it's due, in this case it would be just plain ignorant not to congratulate a few of these guys on making the SHC beautiful again: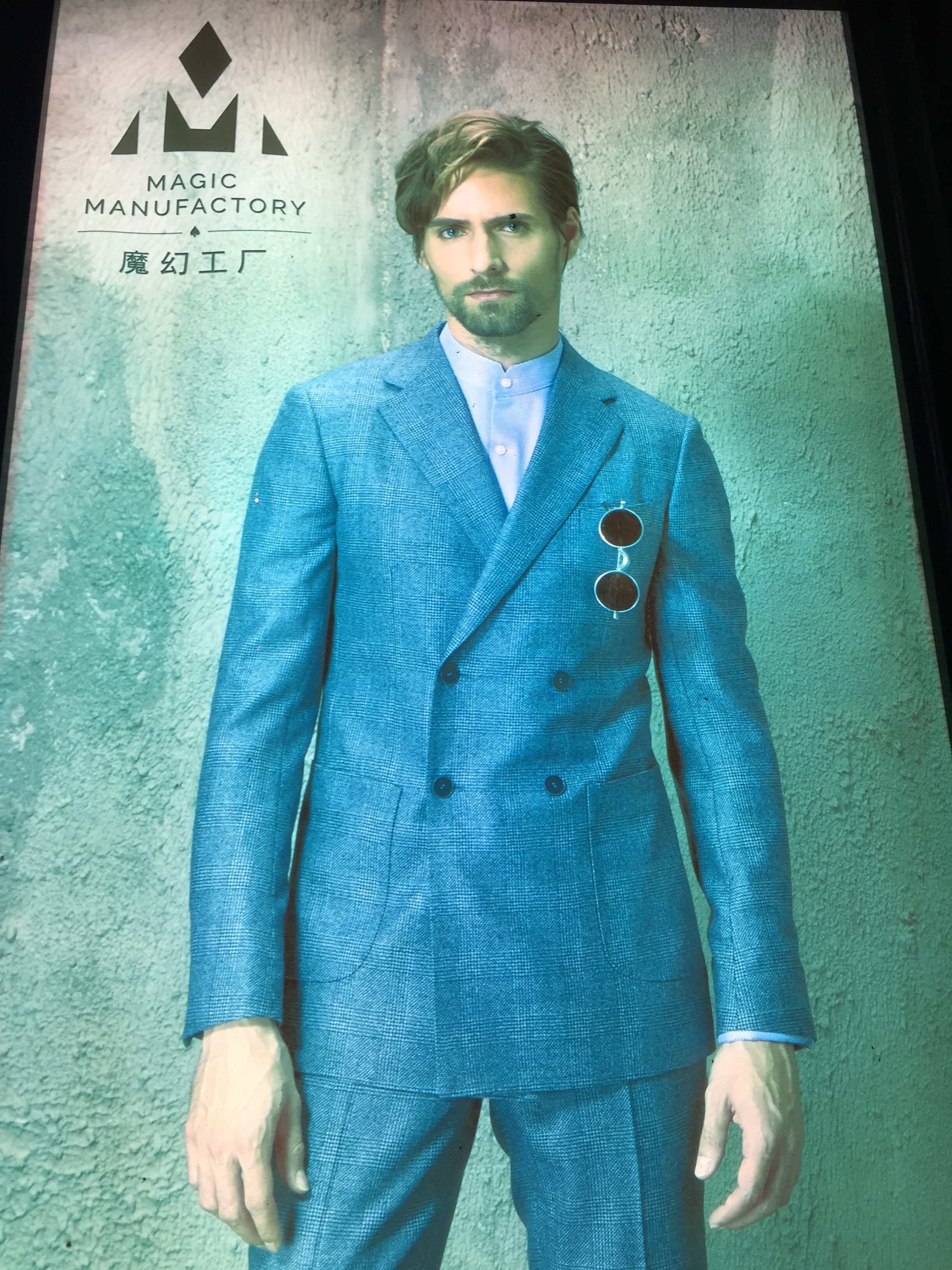 Hailing from Denmark, Sigve 'The Clap' Klepsvik started out modelling on the mean streets of Copenhagen with nothing but his golden mane of hair and giant hands to protect him. Surviving on a diet mainly consisting of half-eaten blueberry turnovers recovered from dumpsters, a young, sickly Siggy got involved in hockey when a local coach drove by one day and noticed him in an alleyway beating the other street children senseless with a rotten salmon for alley scraps. The coach realized right then that despite the rough edge, this street urchin's unnaturally large lobster-claw hands would be great for modelling hockey gloves. And thus the on-ice photoshoots followed, and before long, some actual talent. It naturally follows that his nickname 'The Clap' is a clever homage, not only to his beefy mitts, but also to the thunderous applause his Danish countrymen give him anytime he scores a goal. Thinking his nickname has any other connotation is a common mistake.  
---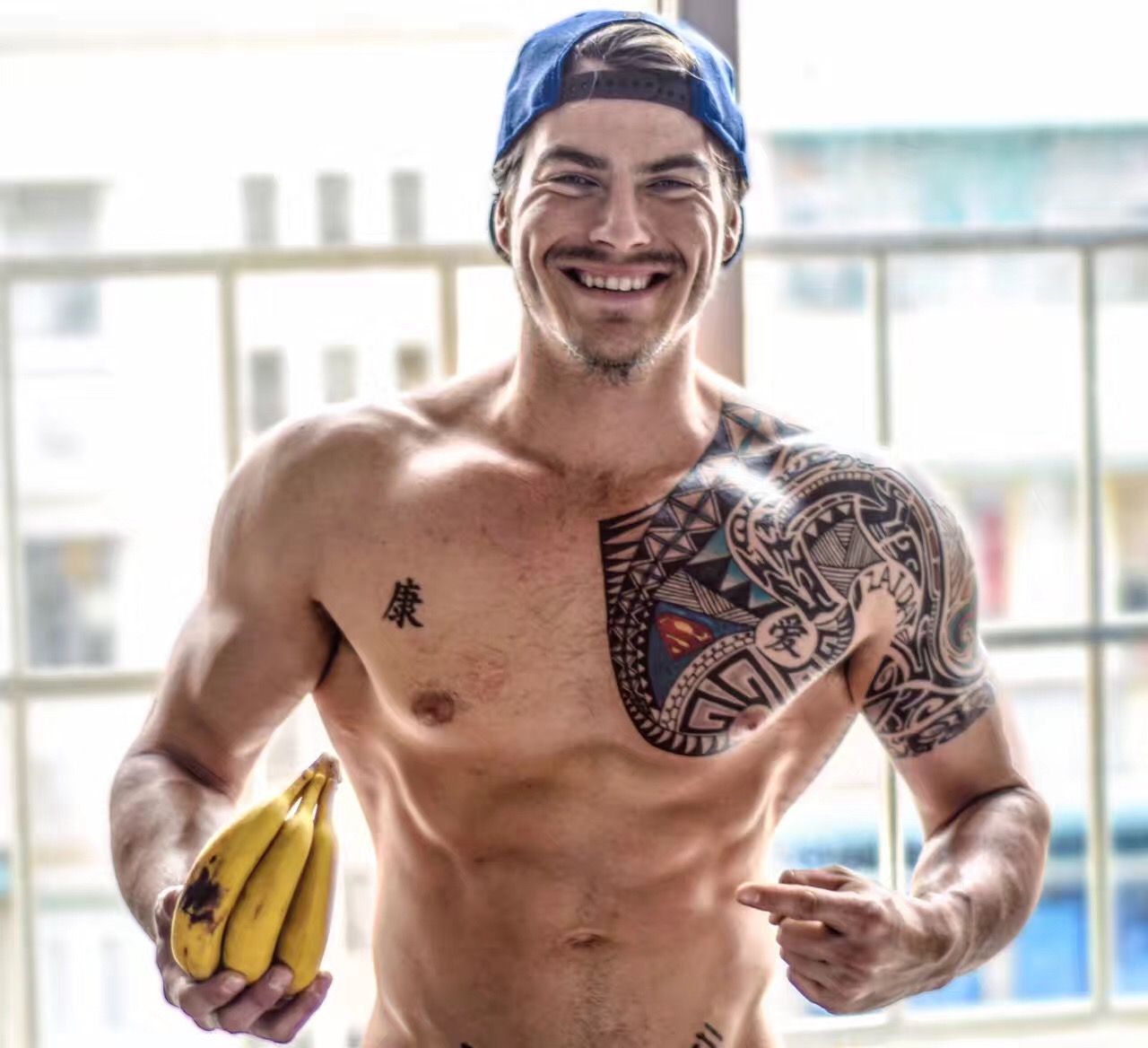 Coming to us all the way from the sunny country of Africa, J-Fit, as he is known in most vegan-only cultish circles, made a splash on the international modelling scene when he refused to do a bathing suit advert unless the water in the lake was gluten-free. After garnering much praise for the conscientious objection, and eventually getting promoted to Vegan Chancellor Supreme, J continued to make waves when he proclaimed that, "All non-vegan savages, including all 'vegetarian pretender scum', are not to be trusted. Let it henceforth be known that consuming the products of animals will result in my posting of your naked torso beside mine on all platforms of social media so that your self-confidence denigrates in my chiseled shadow." The edict turned out to be his last as a clandestine conspiracy in the world of organic fitness models ultimately led to his ousting. Apparently, rumours surfaced that the ink in his tattoos was extracted from a rare, deep-sea Japanese octopus – thus ending his legitimacy to the chancellorship. His climb back to the top has begun with the spreading of his message here in China, where he's found a ripe base of doughy beer-leaguers to convert to his vegan cult. Reports suggest that self-conscious SHC vet, Pepe LePipski, has already fallen prey, blindly purchasing the 6-month organo-cleanse ultra-lo body fat meal plan.    
---
After working as Daniel Radcliffe's stunt double in the Harry Potter series (see above left), Davy Leblanc was forced to take a break from the rough-and-tumble Hollywood stunt double lifestyle. Apparently, as Harry Potter grew older and taller, poor Davy did not (see above right), thus landing him in a market where his quidditch skills were in short demand. Not one to be dissuaded from making something of himself, Davy enrolled in minor hockey at the age of 21 and none were the wiser. To this day, nobody's really sure how old he is. All we're certain of is that a healthy contingent of hardcore Leblanc fans show up to every game, just waiting for 'their chosen one' to score a goal.    
---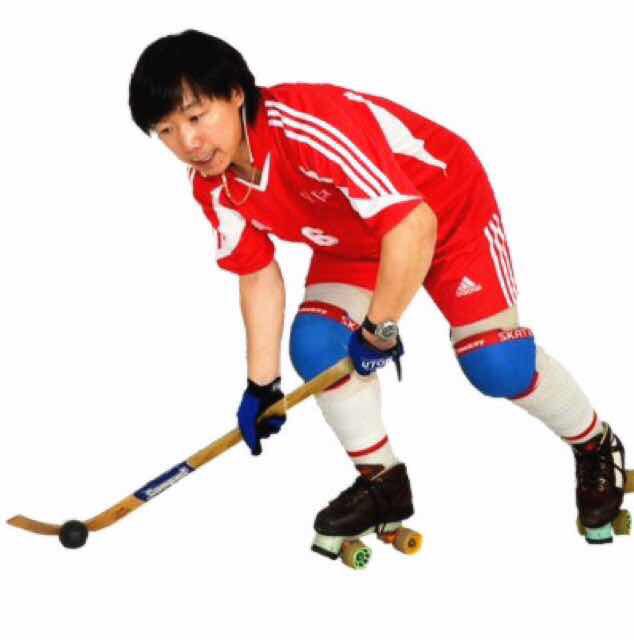 Coming to us all the way from the comfortable confines of North Korea, Jun Sung Park garnered international attention in the modelling world when his gorgeous face graced the cover of "Bashful Ball Hockey Beauties 2002-2003" (see above). Widely believed by his countrymen to be the reincarnation of Pulgasari (look it up, ya beaut!) for his ferociousness on roller skates, Park's ball hockey career was cut short when it was discovered he had accepted a Western sponsorship deal before clearing it with the Supreme Leader. The controversy was believed to have crushed the spirit of the notoriously secretive country, who looked to the nubile, supple youth for inspiration.  However, believing him to be too beautiful for death, Kim Jong-Il decided to exile him instead. Park eventually landed on the shores of Canada, where he spent the rest of his formative years blending in, learning how to make poutine and converting his skills to the ice. Dominating the SHC is just the next step in regaining his former glory.      
---
Welcome aboard, gents (All of 15 you, ya beauts!) And by the way, Happy New Year!
Apparently it's the year of the Cock. And though I haven't the slightest idea why that's significant in the traditional sense, I'm fairly certain we already wasted our A-material innuendo doing write-ups for a filthy-minded franchise that's had the dirty-word bird emblazoned on their jerseys for the past two years.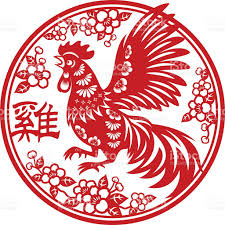 BuKAWWWWWWWk! It's why the Ice Cocks are killin' it, BuKAWWWWWWWWWwk!
But enough about all that. Here's your friggen' roundup:
---
Friday Night
Beardogs 6 vs. Dirty Blues 4
Well folks, it's been a while since we've seen a game quite like this one. Both sides came out flying, and it was obvious from the get-go that the max capacity crowd was in for a treat. That is until Beardogs forward, Mike 'Michelin Man Cock' McClocklin, decided to ask the SHC's lone skater from the Czech Republic, Janzy 'Delicio' Velicio, what it was like playing for "Czechoslovakia" when he was younger. The insensitive question sparked a fire in the 7'10" forward that resulted in a derailment of the McClocklin Express the likes of which we haven't seen since the last time McClocklin hit on somebody else's girlfriend at a pond hockey tournament. After the game, however, the towering forward expressed his remorse for having levelled such a beauty.
(Above left: Jan during game)
(Above right: Jan post game)
After going up 3-1 at one point, the game seemed to be leaning in the Dirty Blues' favour. Little did they know that in-again, out-again returning SHC vet, 'Hammer n' Sicklve' Klepsvik had his own ideas how the game was going to play out. Siggy had a standout performance, scoring twice (including the tying 4-4 goal) and getting an assist to make this game a nail-biter. 'Top Cheezy' Ruizy, 'Boston' Dan Warlockishieck, Mi-Schell, and 'Franklin the turtle-burger' all chipped in a goal of their own in a full-team effort. On the receiving end of things, the Dirty Blues' Jan Ferrell had a pair (of ginos and penalties!) while 'Yo-fat Yogurt' and Darien 'I'm Flyin' Bryant had great games, each scoring one and assisting on two.
---
Hamburglars 4 vs. Fever 2
In their first game back after the break it was obvious to everyone in the building that a fair number of players on both teams were stuck in 'vacay mode'. And judging by the number of 'Tiger', 'Leo', and 'Singha' tank tops that were being worn around the locker rooms, it's fair to say that the sloppy game that followed could've been predicted. Instead of the usual heated exchanges at the face-off dots and ruthless battles in the corners, fans played witness to an awkwardly courteous and overly gentile game that had more smiles and laughter than a team of 40-year-old Balinese masseuses trying to get your attention from the side of the road (even though you're doing your best to hold your girlfriend's hand and not make eye contact lest it result in yet another night of silent treatment at the sub-par airbnb you booked at the last minute because you're too goddam lazy to properly plan anything.)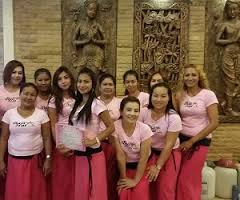 "You wan Mas-aaaaaaaaage?"
*Squeezes eyes shut* "NO – a thousand times – NO!"
Early game action was tilted in the Fever's favour, with many scoring chances getting turned away by some stellar performances between the pipes by 'Super Saiyan' Brett Syer. New additions to the Hambies' defensive core, Simon 'Boob Skis' Kubskis and 'The gravy train' David Leblanc also had standout performances, making some great plays in the clutch.

…And I'm an alcoholic 
The result was the Burglin' bunch capitalizing on every odd-man rush that fell into their lap. Perpetual beauty, A-Aron 'I'll be good for a few' Liu scored a hat-trick while the pride of France, 'Badon-ka-tonk' Franck Saulnier broke in for a beauty of his own and snagged a couple apples for 3 points on the night. Despite a respectable push toward the end of the game, the Fever got shut down by some acrobatic madness on behalf of 'GlenBarry Glen Roess'. We caught up to Barry after the game to get his opinion on the match: "ABS, baby. Hey, you listening to me? A-B-S. Always, Be, Saving. HEY! Don't you walk away from me!" After escaping the wild-eyed goalie, we also managed to get a few questions in with all-round choirboy, 'The Reverend' Kevin Jackson: "Look, all I'm saying is that it's impossible – IMPOSSIBLE – to go on a trip to Phuket with a girl and have a good time! I mean, I'm a nice guy, but I smile when I hear a beautiful masseuse's laughter from a dark alley – I smile when I'm nervous!!! It's not flirting!!!" We were interrupted there as Shane '3rd round and down' Anderson hijacked the conversation with his own lengthy stories about his "super sweet" Bali Hai v-neck and matching flip-flops.
---
Saturday Night              
Gingerbeards 5 vs. Chiefs 3
The Beards played a tilt with the Chiefs,
Goff played well to BO's relief,
the bearded ones won,
the Chiefs had no fun,
then Fitz cried BO is a thief….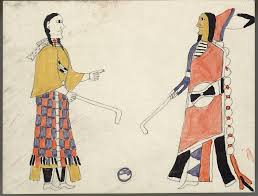 "Give it back, you ginger-cloaked bastard!" 
---
Lowered Expectations 4 vs. Chiefs 3 [S/O]
"I'm on the edge of glory," Low-Ex captain Peter Helenius was heard saying as he returned to the SHC after his greasy, yet peaceful CNY. Both teams were beyond excited to suit up the unis and hit the pristine, mirror-like ice on Saturday evening. Low-Ex hit the ice with nearly a full bench, picking up Tony Azuma off the injured-reserve list after his recovery from a brutal assault by Lorena 'Bobbitt' Cobbett earlier in the season. "I'm okay now. The doctors reattached everything and it all seems to work fine," a sheepish Azuma said during a pre-game interview.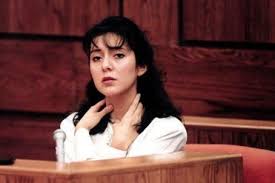 (Pictured above: A remorseful pre-op 'chop-chop' Mark Cobbett)
The Chiefs, on the other hand, seemed to be missing a few key pieces. Rumours were flying around that there were some 'internal issues', and that some players chose to continue their vacations instead of helping their dedicated captain, Coke-Fizz Fitzy. With only 'The Reincarnation of the Dali Lama' Shama and 'Wooooo U ugly!' Leon Li, the Chiefs managed to survive until the shoot-out. 2 goals by Low-Ex's Billy 'Shortbus' Longstreet were answered in turn by The Dali Shama. Marky Mark Qin and Sir Leon Wugglesworth had the lone tallies for either side to send the game to OT.
The 3-on-3 OT skate resolved nothing, so the shoot-out commenced. Shama started it off, missing the net, but 'Lady Hands' Helenius responded by delicately tapping in his team's first attempt. The second shooters followed  the same pattern, Li from the Chiefs missing and Markus 'The Sparkus Plug' Spahr sinking his chance, ending the game for the Low-Ex Victors.
In the press conference after the game, Chiefs' captain Fitz was complaining about the referees, saying, "These f@$#ing zebras were giving my sweethearts SEVERAL questionable penalties!" Yet, after he'd calmed down, Fitz admitted that he was only bitching because his vacation sucked balls. Apparently his wife caught him looking at a young group of tightly-clothed Filipino  masseuses in Boracay.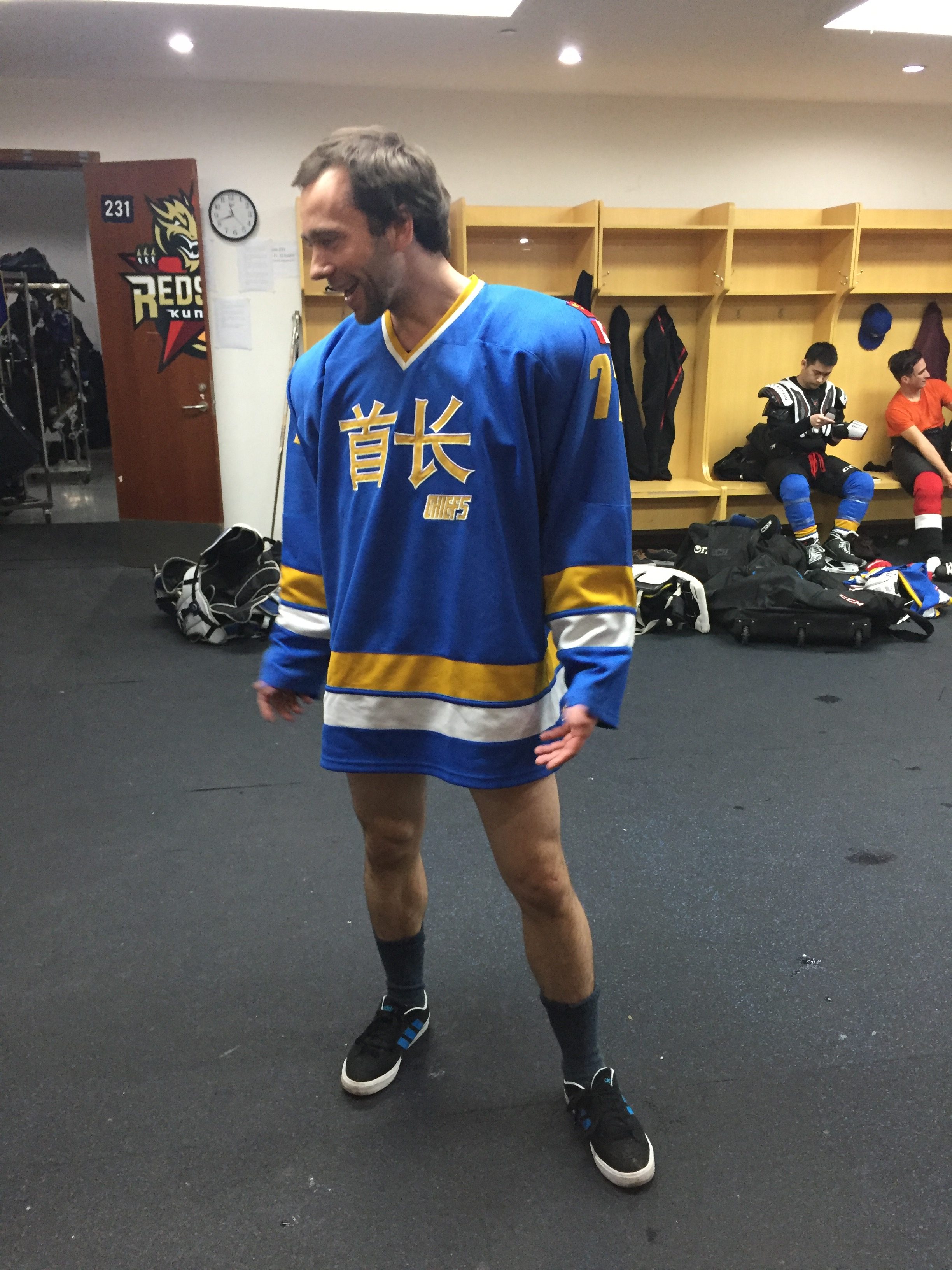 "Has anyone seen my jock? Shortbus deked mine right off, boys!"
---
Night Splash 6 vs. Gingerbeards 3
In an SHC rarity, the Night Splash took on the Gingerbeards and came out on top! Mid-season pick-up, Tim 'The Softy' Cocchi, sniped two goals in his debut. "He's great," captain Suzuki commented, "He lived in Japan for a long time so speaks fluent Japanese. He made friends with NS teammates very quickly because he understands KTV etiquette! He might save our team!!!" Also, 'Leerin' Leon Lee potted his first goal of the season on a highlight-reel pass from 'No it wasn't Fluky' Suzuki.  'Shapley' Matt Whately stepped up big toime, potting a pair for himself in the fray.
---
Lowered Expectations 5 vs. Night Splash 1
The second double header of the night showed no signs of the Low-Ex squad getting sick and tired of playing hockey on the graveyard shift. Whereas the Low-Exers had a break between games, the Night Splash crew played back-to-back games, which caught up to them in the second half. The Low-Ex boys took advantage and kept forechecking hard all game, forcing the Splishy Splashers to cough up the puck in their own zone. Markus 'the Spahrkplug' Spahr kept up his momentum from the first game, notching his first hat-trick in 50 years. Admittedly, he couldn't have done it without some support from Harvey 'The Help' He, who assisted on a pair.
"Whooooo gosh dang – haven't felt this good since the Summit Series!"
Weiner Helenius had a couple helpers of his own, and an overall great performance by the Low-Ex squad justified the 5-1 result.
"Okay, nobody let Angel touch the puck and we'll make it out of this just fine"
During the post-game press conference, none of Night Splash members showed up. Apparently they were 'out of juice' and too busy initiating their mid-season pick-up, Tim 'Pretty good at Hockey' Cocchi at a 'discreet' KTV.
The Fans Said It: "McKelvey and Whately looked like Sedin Twins out there with the same beard, we weren't sure who was f*@$ing who?!"
"I bet those boys had a nice afternoon buying matching panties and expensive facial hair treatments."
"That number 8 on the Night Splash… did he just score his first ever SHC goal? It looked like it for chrissakes, he was screaming like a little girl and going nuts out there!"
"I'm just the janitor, but I'm a bit drunk and I lost my keys. There's nobody here on Saturday nights, so why the Hell are you guys always here at 4am?"